Overview
Foundation waterproofing requires continuity across systems. That's why we've brought together pre-applied and post-applied waterproofing into a complete, best-in-class system, including:
PREPRUFE® Plus pre-applied waterproofing
The importance of foundation waterproofing 
Leaks from groundwater, storm water runoff or irrigation water may impact the foundation of any building that's improperly waterproofed — and when concrete is involved, there are a number of ways that water can travel into and around a structure. 
A continuous waterproofing system is critical to mitigating these risks. 
Best-in-class waterproofing performance 
With more than one billion ft2 around the globe, PREPRUFE® waterproofing is trusted by architects and contractors the world over. Featuring ease of installation along with robust adhesion between the membrane and the structure, the PREPRUFE® line of products offers premium protection against moisture and gas for the design life of the structure. Our unique ADVANCED BOND TECHNOLOGY™ enables the system to form an aggressive bond with the concrete slab. ASTM hydrostatic head testing demonstrates that this can successfully prevent water from migrating between the membrane and concrete, greatly reducing the risk of catastrophic waterproofing failure. 
Contractor-friendly features 
Our R&D team continually seeks ways to innovate in ways that help make contractors' lives easier. The PREPRUFE® line of waterproofing system offers an array range of time-saving features that vastly simplify installation. The ZIPLAP™ seams in PREPRUFE® Plus pre-applied waterproofing systems helps sheets bond to one another more easily, while the two-in-one capabilities of PREPRUFE® 800XP post-applied waterproofing eliminates the need to add a separate protection board. All this adds up to faster ROI for contractors.
Supported by waterproofing experts 
Our waterproofing products are backed by end-to-end design and field support to help our customer with everything from product specification to streamlining installation. Many customers rely on PREPRUFE to help accelerate project completion, gain greater peace of mind, and improve the durability of their structure.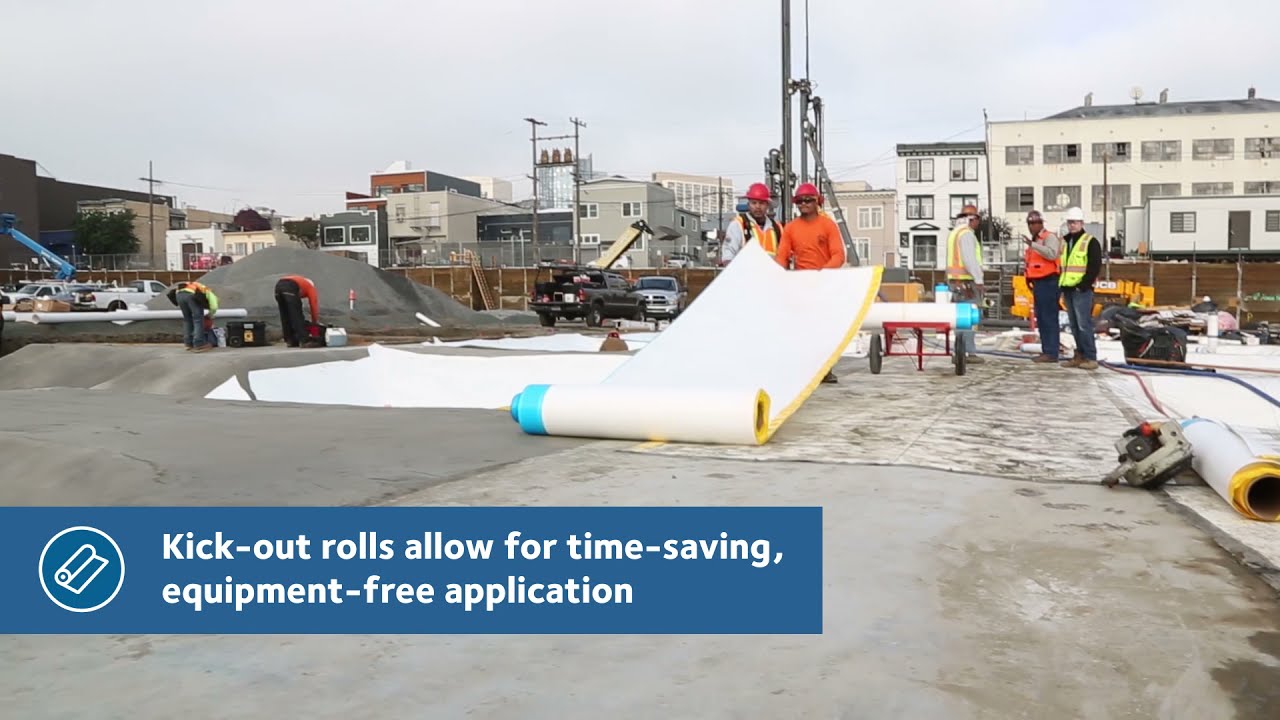 Applications
PREPRUFE® waterproofing systems are ideal for a wide range of applications, including:
Airports
Colleges and universities
Commercial/retail
Infrastructure
Mixed use buildings
Museums
Public transit
Stadiums
System features:
25+ year track record
Flexible yet highly durable films
Easy-to-install detailing 
Resistant to water migration (Independently tested at 70 meters of hydrostatic head pressure)
Red List Free 
Products
Sheet applied waterproofing
Accessories
Accessory Name
Description
Key Benefits
Applications Type
PREPRUFE® Grout EG 75 Data Sheet
Description
PREPRUFE® Grout EG 75 is a high performance, solvent free, impermeable epoxy grout for maintaining the continuity of PREPRUFE® waterproofing systems at pile heads and similar structural penetrations.
Key Benefits
Compatible with all products in the PREPRUFE® sheet waterproofing system
Impermeable
High bond to substrate
Rapid strength gain
Application Type
Waterproofing of pileheads and pilecaps
Waterproofing of structural penetrations through PREPRUFE® waterproofing systems
Recommended thickness range 1/2" (13mm) - 3" (75 mm)
PREPRUFE® Tieback Cover Data Sheet
Description
The PREPRUFE® Tieback Cover is a specially designed, two-part cover used to maintain waterproofing integrity at soil retention tieback heads.
Key Benefits
Prevents water migration
Fully-adhered watertight laps using PREPRUFE® Tape
Simple and quick to install
Easy to inspect
Application Type
Installed over cable and rod type tieback heads