Preprufe® 300R and Bituthene® 3000 waterproofing protects UK hospital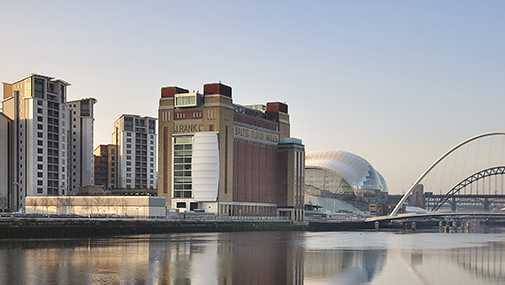 Project
Newcastle Hospitals
Client
The Newcastle Upon Tyne Hospital Trust
Main Contractor
Laing O'Rourke
Consulting Engineer
WSP Consulting Engineers
GCP Solution
Preprufe® 300R pre-applied waterproofing, Bituthene® waterproofing, Hydroduct® drainage sheets
Project Profile
Supporting a state-of-the-art hospital
A £300 million deal transforming health services in Newcastle involved moving all acute healthcare services from the Newcastle General Hospital site to a new, state-of-the art facilily in the Royal Victoria Infirmary and Freeman Hospital, effectively consolidating three sites into two. The hospital design project involved refurbishment to existing buildings in addition to the construction of new commercial buildings.
The plan comprised a new cancer and renal services center built to the rear of the existing Freeman Hospital, as well as a new 810-space multi-story car park. The development of the Royal Victoria Infirmary included a new clinical block, clinical support block, a children's unit, and an accident & emergency department.
The chosen membrane would have to be suitable for application in a confined space
---
Waterproofing in a confined space
The hospital design specified waterproofing of basement areas to BS 8102 Grade 1 and 3, with membranes suitable for application on basement walls and below grade slabs. The chosen membrane needed to be suitable for application in a confined space and applied to permanent formwork.
Drainage was also required to manage any hydrostatic pressure on the basement walls. The commercial building design was complicated by expansion joints, which are always high-risk areas below ground.
In addition, one of the hospital sites was located on a sloping site with a stepped building, which required semi-basement waterproofing of a grade 3 area. The area also contained a retaining wall that required waterproofing.
---
Delivering complete waterproofing protection
To meet the requirements of the hospital design, GCP provided both Preprufe® 300R and Bituthene® 3000 membranes for the basement walls in the grade 1 (multi story car park) and grade 3 basements to protect against the effects of gas penetration.
Preprufe® delivered a pre-applied waterproofing solution, applicable to below slabs and on confined basement walls. Bituthene® 3000, a self-adhesive waterproofing membrane, was post-applied to areas constructed with removable formwork, followed by Hydroduct® drainage sheets to protect the membrane.
In addition to supplying products, GCP provided a great deal of design and field support that consisted of site visits and on-site support, plus technical and CAD service, since the project contained complex detailing and required problem solving at each step.
---
gcpat.com | North America Customer Service: 1 877-4AD-MIX1 (1 877-423-6491)
This document is only current as of the last updated date stated below and is valid only for use in the United States. It is important that you always refer to the currently available information at the URL below to provide the most current product information at the time of use. Additional literature such as Contractor Manuals, Technical Bulletins, Detail Drawings and detailing recommendations and other relevant documents are also available on www.gcpat.com. Information found on other websites must not be relied upon, as they may not be up-to-date or applicable to the conditions in your location and we do not accept any responsibility for their content. If there are any conflicts or if you need more information, please contact GCP Customer Service.
Last Updated: 2020-08-31
https://gcpat.com/en/about/project-profiles/newcastle-hospital-relies-gcp-waterproofing