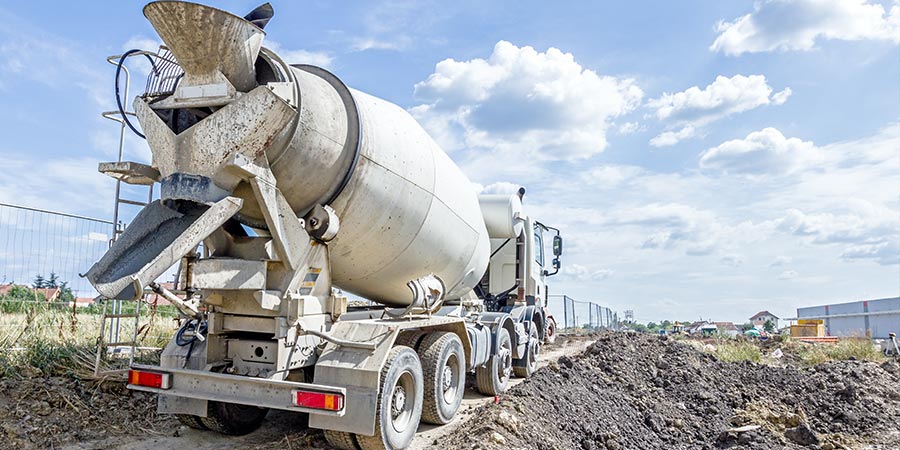 Ready mix concrete producers can optimize fleet processes and avoid overdesign—adding extra cement to the mix—by way of an in-transit concrete management system, which is installed on every ready-mix truck. The producer can tighten controls on the entire delivery process, continually managing slump between plant and jobsite.
Furthermore, when producers work within a performance-based specification, they can collect and analyze the in-transit concrete management system's data for optimizing a given mix design to meet certain performance requirements.
The reason? Visibility into the concrete mix as it's transported from plant to jobsite, via this cloud-connected system.
Collecting, aggregating and analyzing data from ready-mix trucks over time
A ready mix concrete management system manages slump in transit and monitors load data over time for, among other reasons, optimizing mix designs. Traditionally, there had been no way to compare concrete slump maintenance across different aggregates, concrete admixtures, supplementary cementitious materials (SCM), mix designs, etc. while the concrete mixed in the truck (not in a lab or other controlled environment).
Now equipped with an in-transit concrete management system, let's put this to the test.
Say your primary SCM is fly ash for a mix design range, within which you ship often. Meanwhile, several coal plants nearby have shut down due to a change to an alternative fuel source. Less coal may be great for the environment, but not so good for your balance book absorbing the heightened costs of a more expensive or less effective SCM.
Perhaps laboratory tests of a few alternative mix designs incorporating different locally sourced SCMs—ground granulated blast furnace slag (GGBFS), metakaolin, silica fume, or calcined shale to name a few—yield promise of achieving same performance at equal or less cost. Perhaps you've always had the hunch that incorporating a different fine aggregate into a common mix you ship will achieve as good or better results using this new SCM.
Using an in-transit concrete management system, the ready mix concrete producer can monitor and manage these mixes as the concrete ships. Not only will the in-transit data resonate with real-world conditions, these numbers aggregate over time to reflect actual cost fluctuations.
How can an in-transit concrete management system reflect performance of alternative SCMs, aggregates?
If you've already implemented the in-transit system on trucks, while shipping mixes with fly ash, then you've established your benchmarks for the performance of that SCM. You'll know, on average, what percentage of loads arrived within slump, if you were able to lower standard deviation to reduce cementitious content, percentage of rejected loads, etc.
Now incorporate the alternative mix design utilizing a variant combination of SCMs and/or aggregates. Set goals and monitor over a fixed time period. At the end of said period, do "slump arrival at jobsite" metrics meet or exceed the same performance metrics for the traditional fly ash mix? Were more or less loads rejected (the National Ready Mixed Concrete Association (NRMCA) estimates that 5% of all ready mix concrete deliveries in the U.S. are rejected)? Could you add the same amount, more or less water on average, in shipment of the ready mix concrete , to maintain w/c ratio and reduce variability via more control in transit? All of that data's at your disposal, captured by the in-transit concrete management system.
Daily portal data is ingested nightly by a central business intelligence database. Here, producers can slice and dice the historical data in a variety of ways to report on key metrics…
Percentage of slumps that arrived on jobsite within target
Average discharge of slump versus target when max water exceeded
Truck time(s) on site
Percent of loads dispatched on time
This data can drill down to specific drivers or can represent a holistic view of your entire fleet.
In terms of additions to the mix, more than water recorded
If you need to include a high-range water reducer, the in-transit concrete management system can automatically inject superplasticizers into the mix. Moreover, exact quantities of these highly-formulated admixtures are recorded for visibility into their performance impact on the mix and also cost.
Tags
Airports
Architects
Arts & education
Commercial buildings
Concrete
Contractor
Energy facilities
Engineer
In-Transit Concrete Management
Industrial facilities
Infrastructure
Low Temperature
Mass transit
Museums
Owner
Paving
Producer
Ready Mix/Precast
Retail buildings
Schools
Sports stadiums
Structural Solutions
Sustainability
VERIFI