Overview
DUCTILCRETE® engineered systems are optimized for industrial applications. These differentiated slab systems give warehouses, distribution centers, manufacturing facilities, and data centers greater flexibility in their floor space while lowering maintenance costs. In addition, DUCTILCRETE® paving solutions offer better performance and durability than conventional concrete paving.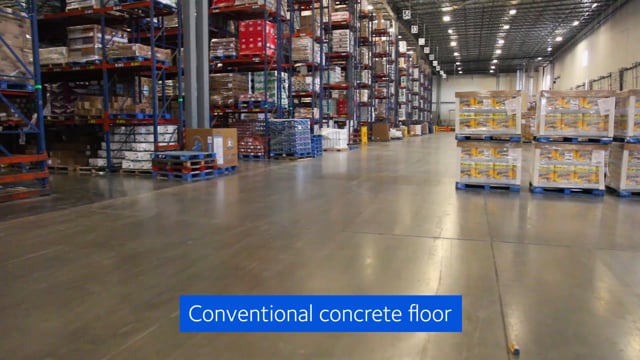 Reduce Slab
Joints by 75%
Improved Industrial Flooring
Building owners, investors, and tenants want to maximize space while minimizing long-term maintenance costs. This can be a challenge in industrial spaces where concrete flooring takes a great deal of wear and tear, and requires extensive control joints that can disrupt the flow of the space. DUCTILCRETE® engineered systems extend control joint spacing, allowing for:
Reduced curling and associated maintenance of concrete floors
Increased load bearing capacity
More flexibility in space usage and layout
Fewer Joints
Backed by a five-year warranty from your DUCTILCRETE® licensed contractor, these unique engineered systems support a wide range of uses, including food-grade, lab-grade, and manufacturing facilities. DUCTILCRETE® slabs dramatically increase joint spacing for industrial flooring projects. Extending joints to column line spacing means reduced joint filling, curling, rocking, and spalling. 
Concrete slab
designs
The design stage is just as important as the construction phase. With more than 80 years of experience in the concrete business, we understand that proper slab on grade designs, optimized mix designs as well as concrete placement are essential to a quality concrete slab. That is why we provide third-party validated designs and specifications, including site specific details (inclusive of load capacity charts).
Paving
Concrete paving can have many of the same challenges as floor slabs. Cracking, curling, and pavement joints can be major issues. DUCTILCRETE® engineered systems for paving can offer low lifecycle costs, sustainable, durable pavement solutions with reduced profile thickness, as well as resistance to salts and de-icers.
Advanced Concrete Slab Technology
Learn more
To ensure the highest quality, DUCTILCRETE® concrete slab and pavement systems can only be installed by professionally trained licensees. Anywhere in the United States and Canada, we've got you covered.