TB-0016A — Performance of DARAWELD® C Bonding Agent for Concrete Repair Technical Bulletin (US Version)
DARAWELD® C is a liquid bonding agent for bonding new to old or new to new concrete. Examples of its many uses include bonding, patching, or re-surfacing concrete floors, walls, beams, columns, pipe, or other structural members.
To show compliance with ASTM C 1059 Standard Specification for Latex Agents for Bonding Fresh to Hardened Concrete, tests were conducted in accordance with ASTM C 1042 Standard Test Method for Bond Strength of Latex Systems Used with Concrete by Slant Shear. Robert L. Nelson & Associates, Inc. of Schaumburg, Illinois performed the tests and the results of the tests are given on the reverse side of this technical bulletin.
ASTM C 1042 states that for Type II Latices, a cement and latex slurry be prepared and applied to the hardened specimens. To prepare the cement and latex slurry, an equal parts solution of water and DARAWELD® C was added to the cement and mixed to a workable consistency. This series of tests are identified as "Set 1". In addition to performing the required tests in ASTM C 1042, a second set of specimens were made using GCP Advanced Technologies's recommended bonding grout slurry mix design. The bonding grout slurry incorporated 2 parts sand and 5 parts cement and was mixed to a workable consistency with an equal parts solution of water and DARAWELD® C. This series of tests are identified as "Set 2".
ASTM C 1059 requires that the minimum bond strength for Type II Latices be 1250 psi after immersion. In these tests the average bond strength for Set 1 was 1290 psi and 1780 psi for Set 2.
The results of these tests illustrate that DARAWELD® C complies with the requirements of ASTM C 1059. Furthermore, when GCP Advanced Technologies's recommended bonding grout mix design is used, performance far exceeds the requirements of the specification.
DARAWELD® C bonding grouts and mortars have been used in a wide variety of applications. For a complete listing of applications for which DARAWELD® C can be used, please see the DARAWELD® C Job Analyzer.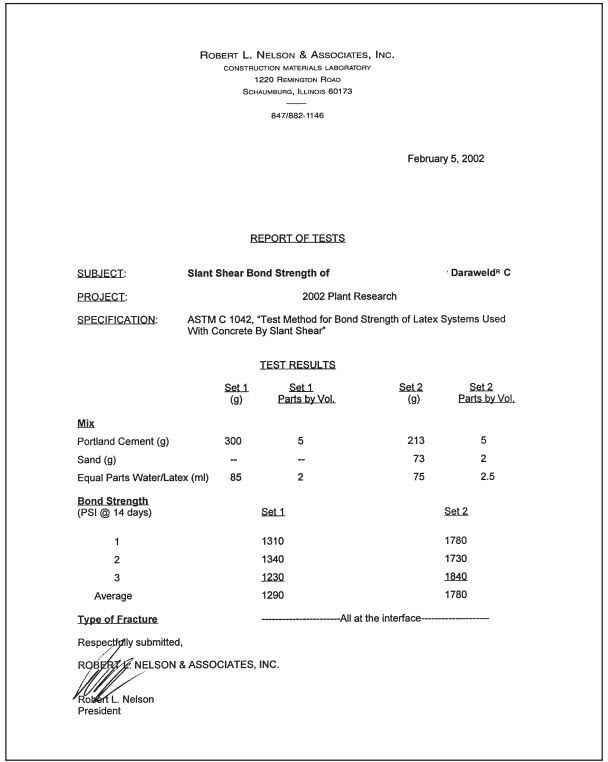 gcpat.com | North America Customer Service: 1 877-4AD-MIX1 (1 877-423-6491)
We hope the information here will be helpful. It is based on data and knowledge considered to be true and accurate and is offered for consideration, investigation and verification by the user, but we do not warrant the results to be obtained. Please read all statements, recommendations and suggestions in conjunction with our conditions of sale, which apply to all goods supplied by us. No statement, recommendation, or suggestion is intended for any use that would infringe any patent, copyright, or other third party right.
DARAWELD is a trademark, which may be registered in the United States and/or other countries, of GCP Applied Technologies Inc. This trademark list has been compiled using available published information as of the publication date and may not accurately reflect current trademark ownership or status.
© Copyright 2018 GCP Applied Technologies Inc. All rights reserved.
GCP Applied Technologies Inc., 62 Whittemore Avenue, Cambridge, MA 02140 USA.
In Canada, 294 Clements Road, West, Ajax, Ontario, Canada L1S 3C6.
This document is only current as of the last updated date stated below and is valid only for use in the United States. It is important that you always refer to the currently available information at the URL below to provide the most current product information at the time of use. Additional literature such as Contractor Manuals, Technical Bulletins, Detail Drawings and detailing recommendations and other relevant documents are also available on www.gcpat.com. Information found on other websites must not be relied upon, as they may not be up-to-date or applicable to the conditions in your location and we do not accept any responsibility for their content. If there are any conflicts or if you need more information, please contact GCP Customer Service.
Last Updated: 2021-02-05
https://gcpat.com/en/solutions/products/tb-0016a-performance-daraweld-c-bonding-agent-concrete-repair-technical-bulletin