Top three ways to make your next warehouse project more marketable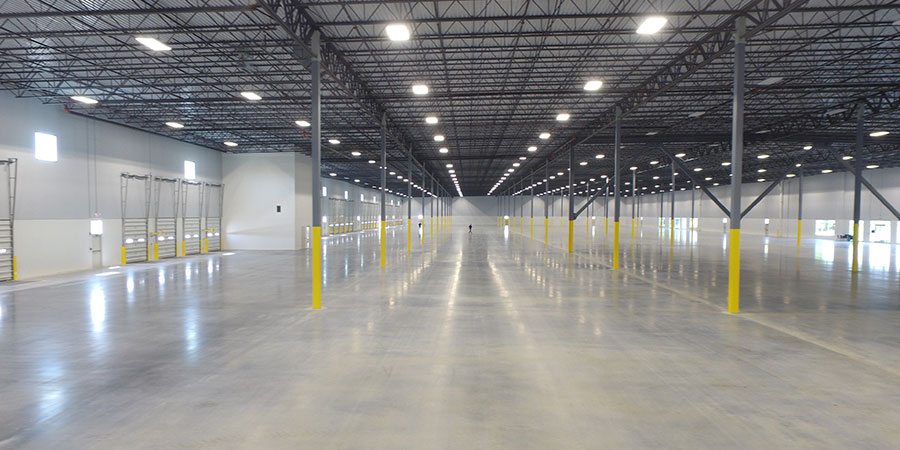 Industrial brokers and developers are always seeking new ways to differentiate their warehouse projects and make them appealing to potential tenants. DUCTILCRETE® engineered slab systems can help to make a warehouse more appealing to corporate tenants by:
Driving down warehouse operating costs
Increasing warehouse flexibility and capacity 
Reducing their carbon footprint
Driving down warehouse maintenance costs
The wear and tear on warehouse floors can lead to considerable cost and aggravation for facilities managers. Traditional concrete floors are prone to cracking and curling, which is exacerbated by heavy traffic from forklifts as well as automated storage and retrieval systems. These repairs are costly, particularly for businesses that cannot afford lengthy warehouse downtime. Even minor flooring cracks and curls damage forklifts and retrieval equipment, resulting in higher maintenance costs and downtime. 
One novel way to lower the tenant's operating cost is by installing a DUCTILCRETE® engineered slab system. The system's composition and unique placement technique introduce greater performance of the concrete and allow for dramatically increased joint spacing, alleviating curling and cracking. This yields smoother, flatter floors with far greater long-term value, helping to lower maintenance costs by up to 75%. 
Increasing warehouse flexibility and capacity
DUCTILCRETE® engineered slab systems provide a cost-effective way to expand warehouse capacity. Based on project-specific requirements, DUCTILCRETE® systems have the ability to reduce the slab profile yet provide up to 125% higher load bearing capacity when compared to conventional slab designs. Additionally, since DUCTILCRETE® systems have far fewer joints, tenants have greater flexibility in racking and equipment layouts. 
These extremely flat floors are also ideal for those using a computerized picking system or cantilevered racking systems. They can also be easily adapted to support a wide range of uses, such as food grade, manufacturing or lab grade facilities. 
Reducing their carbon footprint
Demonstrating sustainable practices is a must-do for most corporations today, which is why warehouse tenants are seeking ways to reduce their carbon footprint. One way to do so is to move away from traditional concrete floors. Concrete floors contain large amounts of cement. Cement accounts for roughly 7% of all global carbon emissions, according to the International Energy Agency. In fact, just one cubic yard of concrete results in approximately 400 lbs. of CO2 emissions.
Since DUCTILCRETE® engineered slab systems are thinner, they require considerably less cement. Case in point: Using a DUCTILCRETE® system for a 1,000,000 square foot warehouse could eliminate roughly 1.2M lbs. of CO2 emissions. In addition, these patented systems use macro-synthetic fibers instead of traditional reinforced steel. The environmental impact of manufacturing and transporting these fibers versus steel is considerable. A recent study by the University of Akron in Ohio found that using these macro-synthetic fibers instead of steel rebar on a 150,000 ft2 floor could further reduce the carbon footprint by 56%.