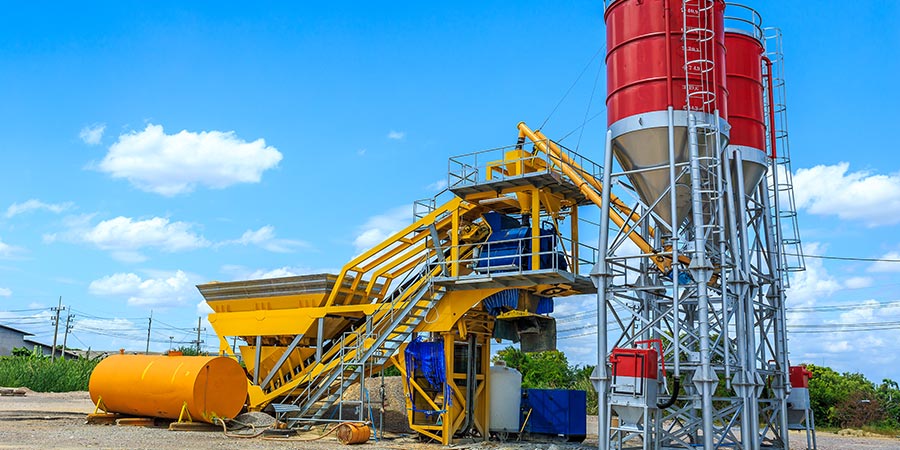 The National Ready Mixed Concrete Association's (NRMCA) Sustainable Concrete Plant Certification (the "Certification") provides ready mix plant personnel specific guidance to assess their production practices and implement sustainability strategies that will ultimately lower their overall carbon footprint.
While any good ready mix plant must strive to turn a profit, they're now also tasked with a triple bottom line that addresses not only economic prosperity, but social equity and environmental responsibility.
The benefits seem obvious enough.
"Moving towards a sustainable, environmentally conscious production model not only reduces environmental burdens, but also increases efficiency and places ready mixed concrete plants in a position of industry leadership in the growing green movement," reads the NRCMA's Plant Certification webpage.
The webpage also provides downloads—helpful worksheets and a "Guidelines" PDF1—for plants to make strides toward sustainability. Plants are graded on a 100-point scale:
Bronze: 30-49 points
Silver: 50-69 points
Gold: 70-89 points
Platinum: 90-100 points
To earn points, plants are assessed by five criteria.
In this article, we'll address how a ready mix plant can earn points in four of these five categories, by incorporating an in-transit concrete management system into its truck fleet.
Material acquisition
Cement content is the most important factor in determining a concrete mix's embodied energy and carbon footprint. Therefore, if a ready mix producer can reduce their cement use, they will minimize both costs and their CO2 emissions.
Along this vein, the NRMCA suggests encouraging architects and engineers to specify 56-day strength rather than 28-day. Concrete mixes containing high volumes of supplementary cementitious materials (SCMs) such as fly ash, for example, will gain 50-80% of their ultimate strength after the 28-day mark and allow the producer to deliver a higher strength concrete with less cement.
In addition, the producer can avoid "overdesign," or adding extra cement to the mix by gaining tightened controls through an in-transit concrete management system. With these systems, water and/or admixture additions are automatically managed by the cloud-based system via sensors and an injection nozzle on each ready mix truck. The ready mix plant personnel doesn't have to add extra cement or "overdesign" the mix. Without the cloud-based system, producers traditionally have had to incorporate as much as a 5% cement cushion to hedge against water additions that lessen strength while the wet concrete ships from the plant to the jobsite.
Production
For ready mix plants to truly become sustainable, they must assess their use of resources and consumption of energy throughout the entire production process.
When equipped with in-transit concrete management, a ready mix plant can greatly reduce the amount of water added during batching since the automated system monitors, measures and manages water additions, among other things.
Typically, extra water is added in the batching process to compensate for slump loss that the wet concrete will endure in transit. Conversely, the in-transit concrete management system, which controls water additions automatically on the truck, allows ready mix personnel to batch the concrete on spec at the plant. If loads encounter slump loss while in-transit the system will inject precise water additions automatically to keep that slump within target. System water additions are also tracked and recorded in the cloud.
With this technology, ready mix producers can realistically monitor how much water they are using in transit. They can set benchmarks and then try to improve upon them over time.
Delivery and construction
According to the NRMCA's sustainability guidelines, "improving fleet operation and management through fuel economy, updated and properly maintained vehicles and well-trained drivers will minimize the environmental burdens incurred in the construction phase and streamline the construction process."
An in-transit concrete management system especially aids in improving fuel economy in two main areas: (1) reducing truck idle time; (2) reducing high-speed drum rotations in transit, which can account for up to 23% of a ready mix truck's fuel consumption.
The automated concrete management system reduces a ready mix truck's idle time because more trucks will arrive at the jobsite on slump target. Eliminating slump retests or re-tempering onsite leads to immediate pours and, thus, less onsite wait time. The in-transit concrete management system also records data such as average onsite wait time, cycle times and total time onsite so that ready mix producers can be sure they've shaved valuable minutes from each delivery.
The system also regulates high-speed drum rotations. Since the truck-mounted sensors constantly monitor the quality of the concrete in transit, the system rotates the drum only as much as the concrete requires to remain within specification. Less drum rotations translate to less energy and less fuel consumed.
Material reuse and recycling
Excess concrete, in both plastic and hardened states, is a primary concern in the ready mix concrete industry. Think of the carbon footprint of one rejected load alone: This includes the truck fuel burnt to deliver and now return it, the wasted cement and other concrete components themselves and the added energy required to now crush and find some low-value alternative use for this rejected material. Return rates average around 5% of production volume, but have been reported as high as 15% in some cases.
The best way for ready mix producers to reduce this percentage is by avoiding rejected loads. An in-transit concrete management system like the VERIFI® in-transit concrete management system is a great tool by which to accomplish this. Since the ready mix concrete is managed by the automated system, producers can be confident that more of their loads will arrive at the jobsite on slump, in spec and ready to pour immediately.
---
1 Much of the sustainability suggestions in this article are from the NRMCA's "Sustainable Concrete Plant Guidelines."
Tags
Architects
Commercial buildings
Concrete
Contractor
Energy efficient solutions
Engineer
In-Transit Concrete Management
Precast producer
Producer
Ready Mix/Precast
Sustainability
Transportation Infrastructure
VERIFI