Adhesion of Primerless Air Barriers: A Sticky Subject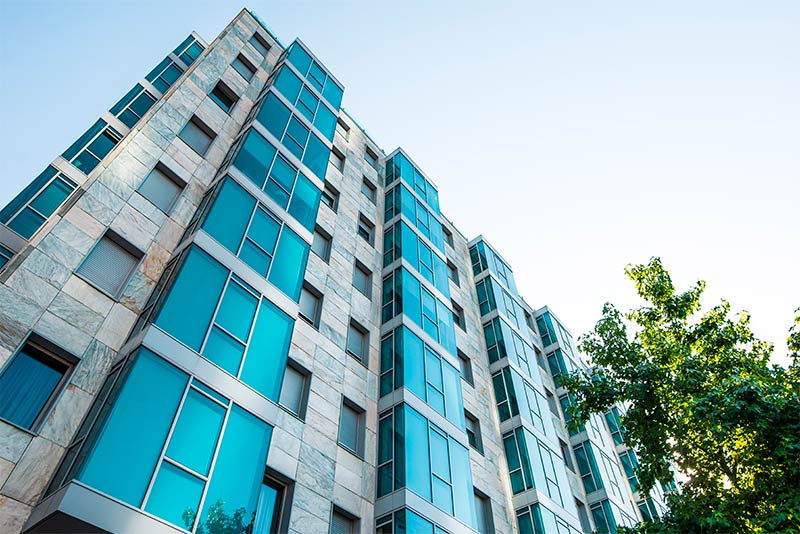 Building owners and architects are focused on making their buildings as weather resistant and energy efficient as possible. Meanwhile, contractors are continually seeking ways to construct those buildings faster and more efficiently, without sacrificing structure performance. Primerless air barriers help all of these stakeholders achieve their objectives.
The new generation of primerless air barrier membranes dramatically reduce installation time—by up to 40% compared to systems that require primer. That means faster installation and lower labor costs.
As with any solution that helps reduce initial costs, it's important to look carefully at its value over the long term to make an informed decision. When comparing primerless air barriers, there are some important differences among products that can impact their performance over the life of the building. Key among these is the adhesion of the membrane.
All fully adhered, sheet-applied, primerless air barriers have an adhesive backing that allows the membrane to be easily and rapidly applied to a clean and dry substrate, without having to apply primer beforehand. However, specifiers may not be aware that the adhesive qualities of primerless air barriers can vary greatly from one product to another. In some cases, the adhesive is far less aggressive than is needed to withstand the test of time.
As long as the membrane sticks to the substrate when installed, why does this matter? First, depending on subcontractors' schedules, that air barrier membrane may be left exposed to the weather for days, weeks or even months. Without strong adhesion, the membrane can begin to peel, opening voids between the substrate and the barrier. In some cases, the whole sheet can fall off. The contractor will need to come back and reapply those portions of the membrane before the cladding is applied, potentially interrupting the construction schedule. Or worse yet, these loose areas go unnoticed and the building no longer has a continuous air barrier.
Even if this risk is avoided, another one lies in wait. Over the years of changing temperatures in the wall assembly, a weak adhesive can begin to degrade. This means it is no longer performing its function as designed, diminishing the wall's weather tightness, vapor permeability properties, and energy efficiency. In some cases, this could cause problems that lead to callbacks—something no contractor or architect wants.
Primerless air barriers are an effective solution for many building projects, saving significant up-front time and expense. Just make certain that the membrane you specify and install has the aggressive adhesion needed to stand up to the rigors of time and weather.
At GCP Applied Technologies, we developed our proprietary Advanced Bond Technology™ to ensure our primerless air barriers adhere strongly to a variety of substrates under real-world conditions for years to come.
"Question on a project? Design Advantage experts provide technical consultation throughout project design and construction. We'll work closely with your team to get everybody on the same page, from specification to installation."