Project
2.6M sq. ft. warehouse
GCP Solution
DUCTILCRETE® engineered slab system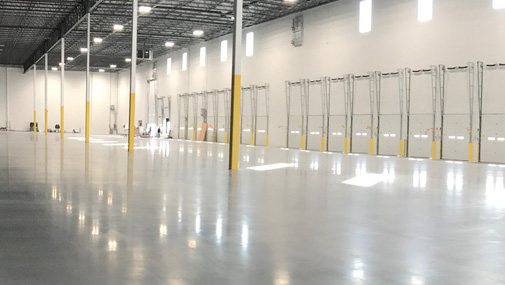 Project Profile
A large footprint
A large import distribution center in Alabama called for 2.6M ft2 of concrete slab. Due to the heavy wear and tear these warehouse floors often endure, the aim was to have as few control joints as possible.
---
A tall order
11,500 cubic yards of building foundations
2.5M ft2 of DUCTILCRETE® HB100 slab system for the floor
90,000 ft2 of DUCTILCRETE® CS100, a six-inch, dual-course floor slab system
355 9.25"-thick concrete tilt-up wall panels
8,200 linear feet (LFT) of paved ditch ranging 13-33 feet wide
5.6 miles of 10-foot-by-10-inch thick dolly strip with double mats of reinforcing and dowel baskets
More than 90,000 cubic yards of concrete placed on the project from two onsite batch plants
---
Since the concrete contractor installed DUCTILCRETE® engineered systems for the slab, the control joints were reduced by 71%—from 352,600 LFT to 103,700 LFT—a difference of 248,900 LFT. To put this into perspective, 248,900 linear feet is equivalent to 47 miles— nearly the distance between Boston, Massachusetts and Providence, Rhode Island.
The DUCTILCRETE® difference
DUCTILCRETE® engineered slab system contractors and engineers were able to achieve this significant reduction in control joints due to the system's patented technology.
DUCTILCRETE® HB100 engineered systems for concrete slabs are based on the HEIDEBED® technology and method. They are specifically designed for tilt-up construction where the two layers are placed in separate pours. The entire bottom part of the slab can be installed quickly, providing a surface for ongoing construction. The top layer is typically placed after the walls and roof have been installed, which allows for a superior slab finish, eliminating the need for repairs of the bottom course.
DUCTILCRETE® HB100 slab systems result in:
High performance
Flat concrete slabs with column line joint spacing
Superior finish without the residual effects of tilt-up construction
Increased load carrying capacity vs. traditionally designed floors
Reduced maintenance and improved construction schedules when compared to traditional slab construction systems
Similar to DUCTILCRETE® HB100 slab systems, DUCTILCRETE® CS100 is a patented dual-layer engineered system for concrete slabs, but the layers are placed together, wet on wet. This system also results in high performance, flat concrete slabs with column line joint spacing, while providing increased load capacity and reduced maintenance.
These DUCTILCRETE® engineered slab systems are best suited for warehouses, e-commerce and distribution center, and manufacturing facilities. Essentially, the systems are ideal for structures with a large expanse of concrete slab, where control joint minimization and reduced curling translate to decreased joint deterioration and less cost of slab maintenance.
DUCTILCRETE® FS100 slab systems are optimized for cold storage, freezer warehouses and food service facilities. For exterior applications, DUCTILCRETE® CP100 and WT100 engineered systems work wonders for truck courts, non-DOT paving, car parking and driveways. 
---
gcpat.com | North America Customer Service: +1 (877) 423 6491

GCP Applied Technologies Inc., 2325 Lakeview Parkway, Suite 400, Alpharetta, GA 30009, USA
GCP Canada, Inc., 294 Clements Road, West, Ajax, Ontario, Canada L1S 3C6
This document is only current as of the last updated date stated below and is valid only for use in the United States. It is important that you always refer to the currently available information at the URL below to provide the most current product information at the time of use. Additional literature such as Contractor Manuals, Technical Bulletins, Detail Drawings and detailing recommendations and other relevant documents are also available on www.gcpat.com. Information found on other websites must not be relied upon, as they may not be up-to-date or applicable to the conditions in your location and we do not accept any responsibility for their content. If there are any conflicts or if you need more information, please contact GCP Customer Service.
Last Updated: 2023-08-29
https://gcpat.com/en/about/project-profiles/ductilcrete-engineered-slab-system-eliminated-47-miles-control-joints-26m-ft