Company: Extrudakerb 
GCP System: VERIFI® in-transit concrete management system 
Introduction
In January 2005 the United Kingdom's Highways Agency launched their Smart Motorway Projects, a commitment to replace all life-expired steel barrier systems with concrete on motorways with high traffic volumes, in order to increase safety throughout their road networks. The realisation that concrete barriers are safer, offer a longer design life and require less maintenance, was a key factor in making this transition. Concrete barriers are significantly less likely to require repair after sustaining impact, and therefore significantly reduce costs, improve the flow of traffic and improve road worker and vehicle occupant safety by reducing the need for lane closures. 
Extrudakerb (Maltby Engineering) Limited, an award-winning slipform concrete contractor in the UK, has led the way in the concrete safety barrier sector for over 30 years. In 2018 Extrudakerb made the decision to design and develop their own new and market leading concrete barrier system. The system known as Extrudakerb Concrete Barrier (ECB) offers a new and improved alternative to other concrete barrier products currently on the market. Since ECB was brought to market it has been installed upon a variety of high profile road improvement schemes throughout the UK, including the Smart Motorway Projects.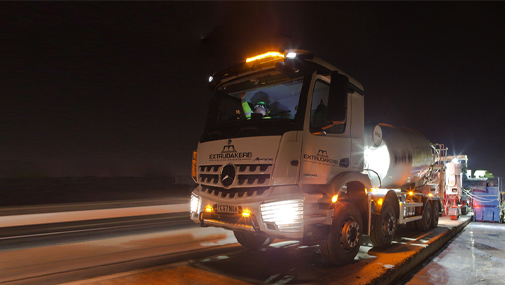 The Challenges:
Manufacturing and installing concrete barriers is an intricate process that requires careful management and delivery to ensure a quality product is provided. Consideration of all processes and applications must be addressed, from concrete production, transportation to placement. 
Concrete consistency often changes during transportation and naturally loses consistency over time, meaning it can dry out before it can be paved. When this occurs, concrete trucks arrive on site and require tempering to adjust the mix so that it can be placed through the slipform paver. Manual adjustments need to be made by adding water via the onboard supply carried by the truck. This relies on the experience of the site operatives, to add a small quantity at a time until the mix is judged suitable for use. However, without a system to monitor the water added, there was no accurate way to record the tempered water. This is a timely operation and causes delays to placement of the concrete once it arrives on site. 
In order to prevent the concrete from losing consistency it must be transported to site under controlled conditions. Inconsistencies in the concrete mix cost time, money and often result in wasted materials.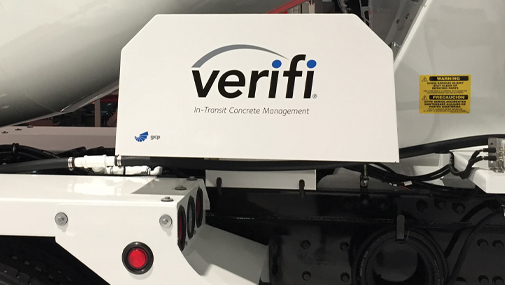 The Solution:
To ensure a quality product is delivered consistently, in a cost effective and timely manner, Extrudakerb carefully tailors their concrete mix designs to meet the environment and location in which the barrier is being constructed to ensure a consistent and quality product.
To control the concrete inconsistencies in-transit, Extrudakerb decided to invest in GCP`s VERIFI® in-transit concrete management system. This system combines sensor technology with predictive analytics to measure and manage concrete in-transit through IoT (Internet of Things).  
The VERIFI® system is the first-ever technology to manage inefficiencies in the concrete delivery process. This automated system encompasses cloud connected in-truck sensors, dosing equipment and data intelligence. The sensors collect real-time data about the concrete properties as the load travels to the job site, and adds water and admixture as needed so that each batch arrives on target. The data is accessible through a portal that can be accessed on phones, tablets, laptops and desktops. 
The Results: 
The VERIFI® solution has helped Extrudakerb on several fronts. From monitoring the concrete batch consistency, to reducing rejected loads through remote insight, this intelligence has provided additional tools to assist Extrudakerb's operations.
The VERIFI® system offers the following advantages to Extrudakerb: 
Real Time Vehicle Tracking - Extrudakerb can see exactly where all of their concrete trucks are and their status. 
Vehicle Status – At a glance, Extrudakerb operations can monitor and assess the full status of a concrete truck's delivery cycle from start to finish.  
Verification of Records – All of Extrudakerb's production records can be supported by the data captured by the VERIFI® system.  
Reduction in Delays Due to Temperature – With more insight into the exact temperatures of a concrete mix, Extrudakerb has the ability to analyse any potential detrimental effects that hot or cold weather may have on the concrete load. This in turn ensures a greater level of compliance against standards and specifications. 
Water/Cement Ratio Compliance -  As the VERIFI® system automatically adds and records water in transit, Extrudakerb can easily prove how much water has been added to the concrete to ensure it is within specified parameters for a particular mix design.
No Supplier Limitations - With the VERIFI®system, Extrudakerb has the option to use any concrete supplier within the UK. 
As part of an interview with Extrudakerb's Materials and Concrete Technology Manager, they stated: "Before we put VERIFI® on our trucks, we were typically paving 10-12 loads per shift. With the addition of VERIFI® as part of the overall paving process, we typically pave 16-20 loads per shift. Adding the VERIFI® system to our trucks has improved the efficiency of our entire operations. The combination of Extrudakerb's state-of-the-art ready mix concrete trucks with GCP's VERIFI® in-transit concrete management system has contributed to the advancement of the slipform process. Not only is the process much more efficient, the product is more consistent. Overall the innovative partnership has allowed Extrudakerb to push traditional boundaries, excelling against project timescales."
Tags
Building Envelope Solutions
Contractor
Design Advantage
Energy efficient solutions
In-Transit Concrete Management
In-Transit Concrete Management
Owner
Producer
Structural Solutions
Sustainability
Transportation Infrastructure
Underground Solutions
VERIFI