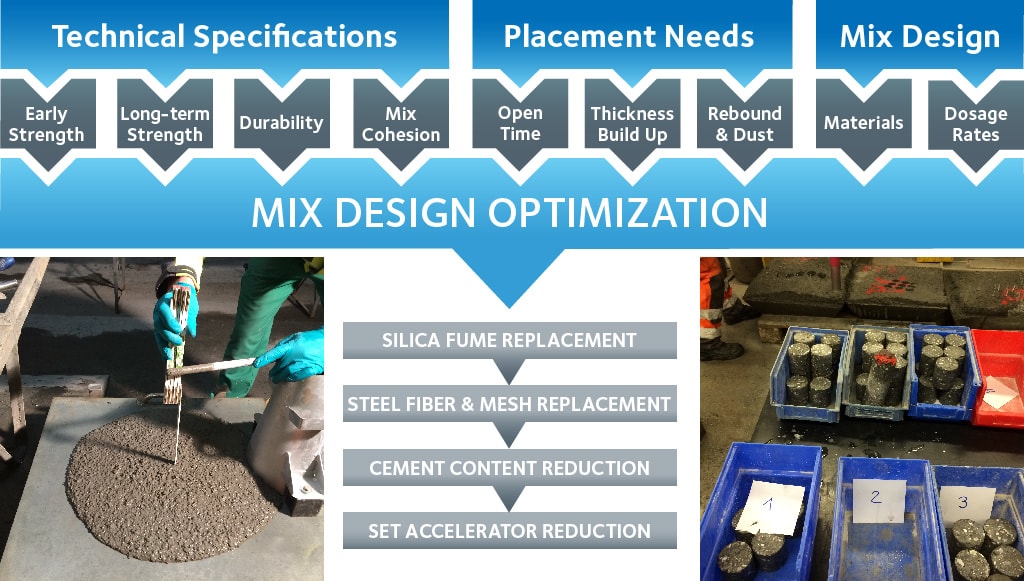 GCP Applied Technologies has launched a new generation of shotcrete admixtures designed to lower the installed cost of shotcrete. The TYTRO shotcrete system offers lower installed cost through customized mix design, mix optimization, waste minimization, and reduced cycle times.
Customized mix design
Every project has different requirements, challenges, and specifications. TYTRO's technical specialists acknowledge the need for customized mix designs to help achieve desired performance requirements in shotcrete. With access to world-class laboratory resources, TYTRO's shotcrete experts ensure that shotcrete professionals get the most technically suitable, optimized, and cost-effective mix designs for every project to meet their target performance and quality requirements.
Mix Optimization
TYTRO® Shotcrete System allows shotcrete professionals to achieve major cost savings (up to 30% lower material cost) through advanced mix solutions tailored to each project's technical specifications, placement requirements and operational needs. TYTRO's mix solutions are delivered by a team of world-class technical specialists and a suite of advanced resources, ranging from rapid diagnostic tools to on-site monitoring systems for shotcrete operational excellence.
Waste Minimization
We help shotcrete professionals achieve more efficient shotcrete operations by combining market-leading technologies and mix design and optimization skills with hands-on technical application expertise.
TYTRO® shotcrete system decreases rebound rates to levels of 5-8% by increasing bond to rock, enhancing adhesion between layers, and improving mix cohesion. Unplanned removal and disposal of waste can be avoided while increasing project productivity and performance.
Shorter Cycle Times
TYTRO® Shotcrete System has been formulated to optimize the spraying process and minimize shotcrete operating costs. To achieve optimal performance, TYTRO® enables larger layer thickness in one single pass and reduces the time for excavation reentry by achieving higher strength levels at very early age.
Tags
Consultant
Contractor
Injection Materials
Producer
Shotcrete
Structural Solutions
Subcontractor
TYTRO
Transportation Infrastructure
Underground Solutions