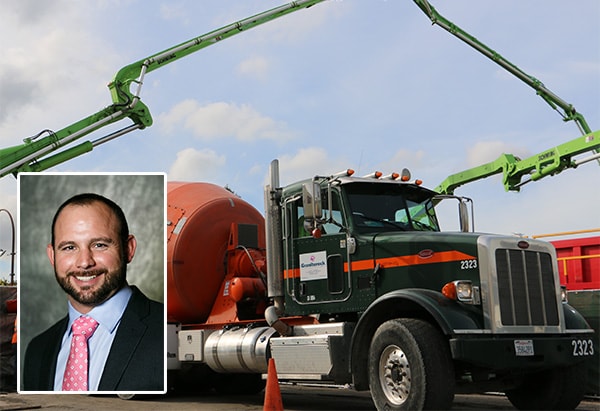 Mike McGrath, Graniterock concrete division business manager in front of one of the company's ready-mix trucks
West Coast ready-mix concrete producer Graniterock will add VERIFI® In-Transit Concrete Management system to its truck fleet, further improving its already exceptional customer service and efficiency.
"At Graniterock, we are focused on safety, customers and quality," Graniterock Concrete Division Business Manager Mike McGrath said. "Verifi's in-transit concrete management is a tool that helps us improve our position in all three of these areas. It not only helps us strengthen our operations; it enhances quality, efficiency and transparency for our customers. Verifi is an innovative technology that brings major improvements to the construction materials industry—to both suppliers and their customers."
"By adding the Verifi system to the Graniterock truck fleet, we've enhanced our relationship providing in-transit concrete management capabilities," said Matt Nazarenko, Global Marketing Manager for Verifi. "We can now create value across all areas of their operation, leveraging the benefits of the Verifi system with our high-performance concrete admixtures and expert technical support in the Bay Area."
VERIFI® IN-TRANSIT CONCRETE MANAGEMENT™ provides sophisticated, automated process monitoring and control during transit from the ready-mix plant to the jobsite. Verifi offers a new level of concrete quality control and helps increase product consistency from one truck to the next, reducing rejected loads, increasing jobsite efficiency and minimizing costly project delays.
About Graniterock
For more than a century, Graniterock has been building highways, driveways and runways. Recipient of the Malcom Baldridge National Quality Award, Graniterock is a supplier of construction aggregates, ready-mix concrete, asphalt, building materials and a general engineering contractor. Using the highest quality materials, friendly experts and modern technology, Graniterock provides the materials needed for any construction job. Its corporate headquarters is based in Watsonville, California.
Tags
Concrete
In-Transit Concrete Management
Ready Mix/Precast
VERIFI