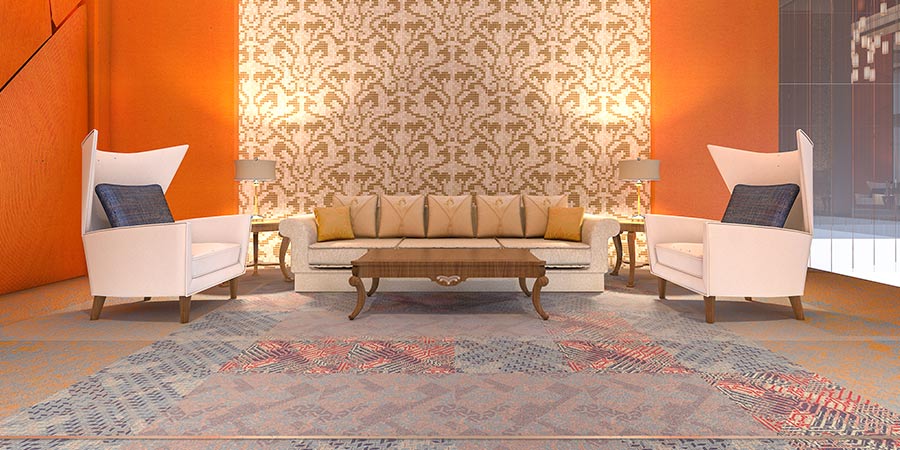 For hotels and resorts, creating a relaxing and positive guest experience is the name of the game. Achieving that goal requires careful attention to every detail — from the lighting and décor to the towels. Flooring also plays a critical role in the guest experience. When selecting flooring for a hospitality project, consider the following key factors.
Aesthetics
Selecting flooring products that convey both class and comfort is important to the overall feeling guests have when entering the reception area and traveling through the property. Make sure to work closely with the property management, including their designer, to ensure flooring aligns with any brand guidelines they have and their overall design vision — whether it's urban chic or country casual.
Durability
Hotel floors must contend with a lot of traffic, including both foot traffic and luggage or room service carts. It is critical to select flooring products designed to stand up to years of heavy use and still look presentable. Whether considering natural materials or synthetic, be sure to check the manufacturer's wear rating to ensure it is up to the task.
Maintenance
Cleanliness is a key success factor in the hospitality industry. Flooring products should be easy to clean and durable enough to withstand daily vacuuming (for carpet) or washing (for tile and hard surfaces). Choosing low-maintenance materials can help reduce costly and labor-intensive housekeeping tasks, while simplifying room turnover.
Noise
No hotel guest wants to be disturbed by the sound of footsteps in the hallway late at night. That's why it's important to select quiet flooring materials, such as carpet, for these spaces and for rooms. In addition, some flooring contractors recommend a sound-deadening underlayment beneath the finished flooring to further reduce noise.
Safety
Slipping or tripping can cause injury for guests and employees alike. In areas where water may be present, such as kitchens and bathrooms, it is important to specify flooring products specifically designed for these areas. In carpeted areas, select products that can be adhered firmly to the substrate to minimize the risk of seams or high spots that can present a trip hazard.
Moisture
Concrete slabs beneath the flooring should be tested for moisture (RH) and alkalinity (pH), whether on the first floor or on the 10th floor. High levels of moisture vapor and alkalinity emanating from the concrete is a major cause of flooring failure. If measured moisture and pH levels exceed those specified by the flooring manufacturer, the floor can experience serious damage over time, including warping, rot and delamination. To protect the floor, consider applying the KOVARA floor moisture barrier between the concrete slab and the flooring. These install quickly and easily, and help protect flooring products from moisture levels as high as 99.5% RH and pH as high as 12. Proactive moisture mitigation is wise insurance to avoid a costly callback.