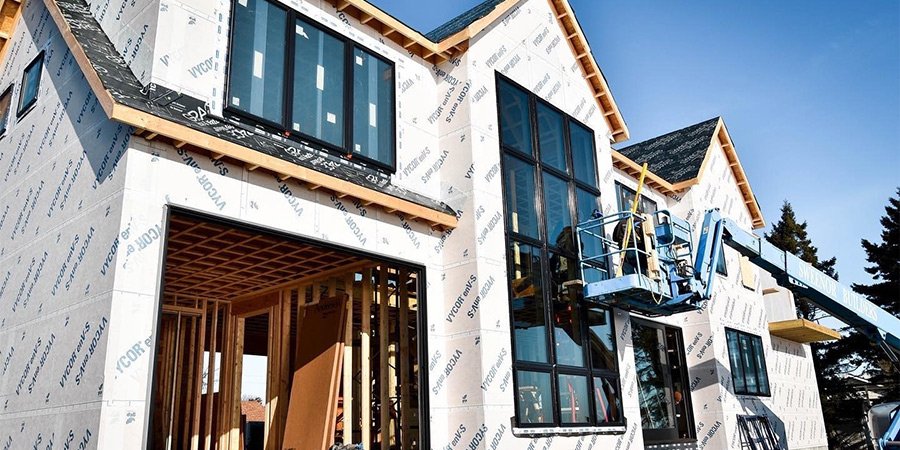 Today, there are an overwhelming amount of weather barrier product choices available to contractors. Their performance varies widely.
Some believe that because a product has met all the requirements of the building code, that it is the right choice for their project. What they may not realize is that the building code represents the absolute minimum level of performance required. There are significant differences in performance depending on how the product is constructed. An important consideration that contractors and homeowners should keep in mind when selecting a weather barrier is how it is applied: mechanically-attached or self-adhered.
Well-built homes need to be built for the worst that Mother Nature has to offer, resisting water infiltration and the costly effects of rot and mold that can result. The way a weather barrier or house wrap is applied is an important consideration. It is critical that contractors take a close look at these two categories:
Mechanically-attached wraps
Mechanically attached house wraps or weather barriers rely on laborious and time-consuming fastening, taping, and detailing procedures that are frequently omitted. They are also vulnerable to wind-driven rain at every hole created when fastening siding and trim materials, and there are thousands of such holes on a typical home. Water infiltration can lead to rot of structural elements, mold, and poor indoor air quality. Additionally, they easily tear around fasteners when left exposed to the elements, requiring either costly re-application or the risk of even more expensive leaks.
Self-adhered weather barriers
A fully-adhered weather barrier, such as VYCOR® enV-S™ membrane, is an advanced alternative to house wrap. This peel and stick weather barrier seals to the sheathing, seals to itself at overlaps, and seals around the thousands of fasteners used to attach siding, trim, and other decorative features. Thanks to this sealing capability, VYCOR® enV-S™ membrane is able to keep water out, while delivering an air leakage rate 7 times lower than a traditional mechanically-installed house wrap, according to a recent study by Oak Ridge National Lab.
Unlike mechanically-attached house wraps, VYCOR® enV-S™ weather barrier does not require the taping of seams or other special joint treatment, and it can be installed on most wood substrates without the aid of special primer materials. The membrane forms a water- and air-tight seal around the fasteners used to install siding and exterior finishing materials, thus avoiding the numerous leak points typical for traditional house wraps.
VYCOR® enV-S™ weather barrier also resists damage due to jobsite conditions and wind, resulting in a professional and high-quality job-site appearance to clients and passers-by. This weather barrier helps ensure peace of mind to homebuilders both during and after installation. It helps reduce costly callbacks, and offers labor savings.
Contractors should be aware that not all weather barriers are created equal and should rely on manufacturers with proven reputation and track record.
Even though weather barriers are hidden under the siding, they should not be overlooked. They serve a critical function, protecting the house from weather damage. Take the time to examine the multiple product types out there. The primary consideration shouldn't only be about what is cheaper, but what product will enhance your reputation by providing long-term quality and performance for the homeowner.
Tags
Air & Vapor Barriers
Residential buildings
VYCOR