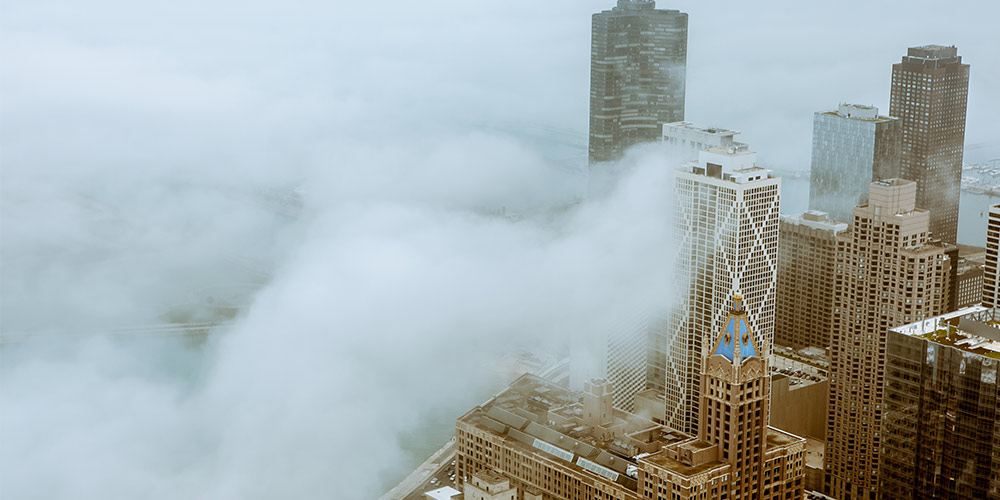 Here's a surprising fact: In 2016, buildings consumed about 40% of the total energy used in the U.S. All that energy consumption adds up to a significant production of "greenhouse gas"; buildings produced 39% of all CO2 emissions in the U.S. in 2004, and that number has been rising. Whether one is concerned about energy costs, energy independence, or the potential impact on our climate, there are plenty of reasons for making buildings more energy efficient.
Increased concerns over energy efficiency in recent years have led to tightening standards for building envelope relating to air leakage, including those set forth by the International Building Code (IBC), the International Energy Conservation Code (IECC) and the American Society of Heating, Refrigerating and Air-Conditioning Engineers (ASHRAE).
Key changes include requirements for higher insulation R-value (higher thermal resistance) and for continuous air barriers. The IECC code requirements for insulation vary by climate zone, with some regions required to have higher R-value and/or insulation external to the building frame to minimize thermal bridging. However, the trend toward reducing air leakage is national in scope.
Continuous air barriers play a central role in maximizing building energy efficiency and reducing energy costs in all climatic conditions by preventing air leakage. Whether it's a cold New England winter, when heat must be kept inside or a sweltering, humid Georgia summer when cool, dry, conditioned air must be maintained, air barriers make a big difference.
How big of a difference?
A 2005 U.S. study by the National Institute of Standards and Technology (NIST) found that reducing air infiltration with a continuous air barrier reduced energy usage by up to 36%. The study included cities in a variety of climatic zones—including Miami, Phoenix, St. Louis, Minneapolis and Bismarck. Savings were greatest in the "cold weather" zones. Energy savings of this magnitude translate into significant cost savings, especially in regions where heating seasons are long and energy sources are expensive. air barriers may also help increase the value of commercial buildings by reducing operating costs—a return on investment every business can appreciate.
Of course, there are multiple factors that determine a building's energy efficiency as it relates to air infiltration, including geographic location, building type, floor area, and, of course, the air leakage rate. The Oak Ridge National Laboratory has developed an online calculator to help building professionals and owners determine how much energy they may be wasting—and how much they could save by further reducing air leakage. It's a helpful tool that provides valuable insight on an otherwise complicated set of calculations.
It's important to note that a high-quality, fully-adhered air barrier can help building owners maximize the energy efficiency benefits. Mechanically-applied air barriers often have gaps or unsealed seams that can allow air leakage. Fully-adhered sheet air barriers and fluid-applied air barriers minimize air infiltration by eliminating or sealing seams tightly and preventing gaps, protecting critical entry points from the effects of air and moisture.
With the right air barrier strategy, you can create buildings that not only serve their owners and occupants well, but also serve us all by consuming less energy.
Tags
Air & Vapor Barriers
Airports
Architects
Arts & education
Building Envelope Solutions
Commercial buildings
Contractor
Energy efficient solutions
Engineer
Industrial facilities
Museums
PERM-A-BARRIER
PERM-A-BARRIER® NPS
PERM-A-BARRIER® VPL 50RS
PERM-A-BARRIER® VPS
Retail buildings
Sports stadiums