SILCOR® Top Coat 70 (US Version)
Two-component, aliphatic urethane based top coat for UV protection of Silcor liquid waterproof membranes.
Product Description
SILCOR® Top Coat 70 is a two-component UV protective coating, formulated specifically to enhance the appearance of SILCOR® elastomeric liquid waterproof membranes.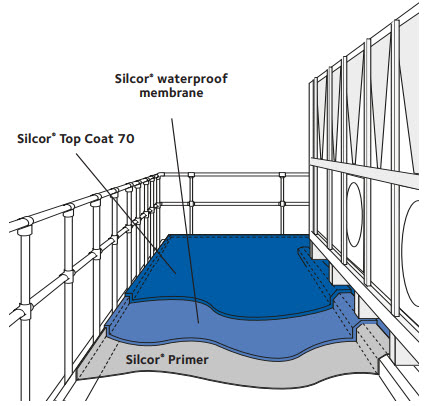 Product Advantages
Prevents discoloration of SILCOR® membranes.
Color stable and UV resistant.
Traction enhancement for pedestrian traffic
Frost and weather resistant.
Easy to apply by brush or roller.
Easily scrubbed and cleaned to maintain its attractive appearance.
Applications
UV protection of SILCOR® liquid waterproof membranes left permanently exposed to UV radiation and light pedestrian traffic.
Suitable for Use:
Balconies
Plaza decks
Terraces
Installation
1. Surface preparation
The membrane surface must be clean, sound, free of dust, laitance, sealers, grease or any other contaminants that might reduce adhesion.
SILCOR® Top Coat 70 should be applied to SILCOR® waterproof membranes within 24 hours but not exceed 72 hours of SILCOR® membrane application.
2. Mixing
Add the complete quantity of the B-component to the A-component to ensure correct mixing ratio.
Mix with a slow turning mixer (less than 300 rpm) for 3 minutes in order to obtain a homogeneous mixture.
3. Application
Apply SILCOR® Top Coat 70 to the surface by brush or roller immediately after mixing to ensure coverage of the entire surface.
Broadcast iron-free sharp, white quartz sand or any approved aggregate into the wet SILCOR® Top Coat 70.
Broadcast sand to full saturation.
Remove the surplus sand and partially bonded particles after the SILCOR® Top Coat 70 is dry to the touch.
Apply the second coat of SILCOR® Top Coat 70 to thoroughly encapsulate the aggregate.
Ambient application temperature range: 40°F to 90°F.
Details shown are typical illustrations only and not working drawings. For assistance with working drawings and additional technical advice please contact GCP Applied Technologies.
4. Curing
SILCOR® Top Coat 70 cure time is 24 hours at 70°F.
Application must be protected from precipitation for at least 4 hours.
Foot traffic is allowed after 24 hours of the top coat application.
5. Cleaning and maintenance
Mixing and application equipment should be cleaned immediately with xylene. All solvents should be used only in accordance with manufacturer's recommendations.
Do not use solvents to clean hands or skin.
Coverage
Approximately 300 ft2 is the total for the system to perform (i.e. two coats at 150 ft2 per kit). Actual will vary depending on the profile of the surface.
Storage
SILCOR® Top Coat 70 should be stored in original packaging. Protect from heat, sources of ignition, moisture, frost and direct sunlight. Storage temperature: 45°F to 90°F.
Health and Safety
For SILCOR® Top Coat 70 read the product label and Safety Data Sheet (SDS) before use. SDS's can be obtained from GCP Applied Technologies.
Supply
PRODUCT
 
SILCOR® Top Coat 70
1 gallon unit
Available in the following standard colors:
Grey
White
Technical Approval
PROPERTY
VALUE
Coating Type
Two-component aliphatic urethane
Shelf Life
12 months
Recommended Thickness
Minimum 5 mils wet film thickness
per coat
Pot Life
3 hours at 70°F (50% RH)
Working Time
3 hours at 70°F (50% RH)
Tack Free Time
1 1/2 hours at 70°F (50% RH)
Pedestrian Trafficable
24 hours at 70°F
All declared values shown in this data sheet are based on test results determined under laboratory conditions and with the product sample taken directly from stock in its original packing without any alteration or modification of its component parts.
gcpat.com | North America Customer Service: 1 877-4AD-MIX1 (1 877-423-6491)
We hope the information here will be helpful. It is based on data and knowledge considered to be true and accurate, and is offered for consideration, investigation and verification by the user, but we do not warrant the results to be obtained. Please read all statements, recommendations, and suggestions in conjunction with our conditions of sale, which apply to all goods supplied by us. No statement, recommendation, or suggestion is intended for any use that would infringe any patent, copyright, or other third party right. 
SILCOR is a registered trademark, which may be registered in the United States and/or other countries, of GCP Applied Technologies Inc. This trademark list has been compiled using available published information as of the publication date and may not accurately reflect current trademark ownership or status. 
© Copyright 2018 GCP Applied Technologies Inc. All rights reserved.
GCP Applied Technologies Inc., 62 Whittemore Avenue, Cambridge, MA 02140 USA.
In Canada, GCP Canada, Inc., 294 Clements Road, West, Ajax, Ontario, Canada L1S 3C6.
This document is only current as of the last updated date stated below and is valid only for use in the United States. It is important that you always refer to the currently available information at the URL below to provide the most current product information at the time of use. Additional literature such as Contractor Manuals, Technical Bulletins, Detail Drawings and detailing recommendations and other relevant documents are also available on www.gcpat.com. Information found on other websites must not be relied upon, as they may not be up-to-date or applicable to the conditions in your location and we do not accept any responsibility for their content. If there are any conflicts or if you need more information, please contact GCP Customer Service.
Last Updated: 2019-03-08
https://gcpat.com/en/solutions/products/silcor-900-series-liquid-waterproofing/silcor-top-coat-70