Product Description
DE NEEF® MC 500® MICROFINE® Cement is a blast furnace slag based cement composed of ultrafine particles, designed for injection into loose soils, rock, concrete, and down-hole applications. DE NEEF® MC 500® has a grain size of d95 equal to 9.5 microns and a d50 of 3.5 microns. The composition is comparable to high sulfate – resistant cements. It is suited for stabilizing or sealing all earthen foundations; especially for permanent structures such as tunnels, dams, deep foundations and oil storage tanks. Because MC-500 cures into a hardened concrete, it causes no pollution to underground soils or water supplies.
DE NEEF® MC 500® is used with NS-200, a superplasticizer, to prevent clumping of microfine cements. It is generally used at 1-2 wt. % of the dry cement weight. 
Product Advantages
Excellent penetration into fine sands and finely cracked rock
High cured strength- chemically activated to produce rapid curing to high strength
Excellent durability- impermeable to ground water and seawater
Low permeability- 10-9 cm/s permeability for neat grout.
Product Applications
Geotechnical grouting
Oil well remedial cementing
Seal off underground streams
Create cut off walls for dam construction
Reinforce foundations in dams and buildings
Reinforce and waterproof tunnel walls and roofs
Create waterproof basins for reservoirs
Facilitate all types of excavation
Stabilize hazardous waste.
Provide secondary containment for nuclear waste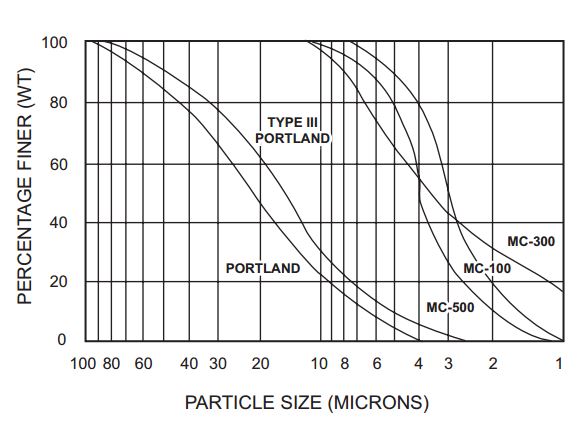 Alt Text
DeNeef Micro Fine Cement Chart
Installation
A colloidal mixer is necessary for mixing DE NEEF® MC 500®. The order of addition to the tank is: water, NS-200, mix, then add DE NEEF® MC 500®.
Contact a DE NEEF® technical services representative for application specific installation procedures.
Packaging & Handling
55 lb bags
40 bags per pallet.
Store on pallets in dry and cool location.
NS-200: 3.5 gallon pails (35 lb). Store in original containers at or above 60⁰F.
One Component Grout Mix
DE NEEF® MC 500® GROUT MIX (55 LB BAG)
 
 
Batch Size
5 Bages (275 lbs)
4 Bages (220 lbs)
3 Bages (165)
Water: Cement
1:1
2:1
3:1
Water
33 gal.
53 gal.
60 gal.
NS-200
0.28 gal.
0.22 gal.
0.16 gal.
MC-500
275 lbs.
220 lbs.
165 lbs.
TOTAL
44 gal.
62 gal.
67 gal.
TOTAL
555 lbs
669 lbs
672 lbs
Set time for above mixes is 3-5 hours
Health and Safety
Freshly mixed cement grout may cause skin injury. Avoid contact with skin where possible and wash exposed skin promptly with water. Use dust mask when breaking bags and mixing. Avoid eye contact, if exposed, rinse immediately with water and seek prompt medical attention. Always use protective clothing, gloves, and goggles during use. Do not ingest. Refer to SDS for detailed safety precautions.
In the event of an EMERGENCY call: CHEMTREC 800-424-9300.
Properties
| DRY PROPERTIES |   |   |
| --- | --- | --- |
| Grain Size | 9.5 d95 | ASTM C204 |
| Grain Size | 3.5 d50 | ASTM C204 |
| Bulk Specific Gravity | 0.7 g/cm3 | ASTM C150 |
| Absolute Density | 2.9 g/cm3 | ASTM C150 |
| Volume | 0.041 gal/lb | ASTM C150 |
| Surface Area | 1.6 x 104 cm2/g | BET Method |
MIXED PROPERTIES
WATER:CEMENT = 2:1
 
NS-200= 2% by weight . T=20⁰C
Marsh Funnel
Mix Time*
Run Out
 
0 min
29 s/dm3
 
30 min
30 s/dm3
 
60 min
30 s/dm3
 
90 min
30 s/dm3
Sedimentation
Mix Time*
By Volume
 
30 min
0%
 
60 min
2%
 
90 min
3%
COMPRESSIVE STRENGTH (NEAT GROUT 2:1)**
3d
3.0 N/mm2
435 psi
7d
4.0 N/mm2
580 psi
14d
4.5 N/mm2
653 psi
28d
4.5 N/mm2
653 psi
* Suspension mixed continuously at 350 rpm until tested.
** Measured on 4 cm x 4 cm x 16 cm prisms.
Note: The data shown above reflects typical results based on laboratory testing under controlled conditions. Reasonable variations from the above data may be expected.