Project
Hong Kong-Zhuhai-Macao Bridge
Owner
Hong Kong-Zhuhai-Macao Bridge Authority
Lead Design Firm
China Communications Construction Co.
General Contractor
China Communications Construction Co. Project Management Dept.
Engineers
AECOM Asia Co. and COWI A/S Denmark
GCP Solutions
ELIMINATOR® bridge deck waterproofing System, Zed S94 Primer, Tack Coat No.2.
Waterproofing applicators
Shenzhen Asianway Corrosion & Protection Engineering Co. Ltd. and Zhenjiang Lanbo Technology Inc.
Paving Contractors
Chongqing Zhixiang Paving Technology Engineering Co. Ltd. and Guangdong Provincial ChangDa Highway Engineering Co., Ltd.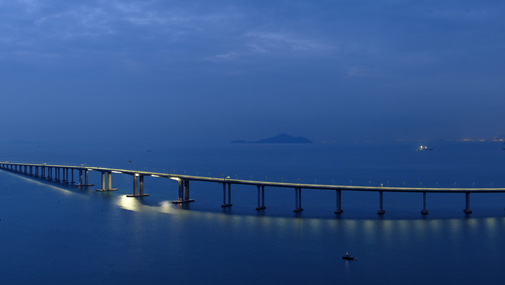 Project Profile
At 50km in length, China's Hong Kong-Zhuhai-Macao Bridge is currently the world's longest sea-crossing bridge and the third longest bridge structure in the world.
The super structure is expected to reduce travel times from over three hours by land or one hour by ferry to just 30 minutes. 
"ELIMINATOR® bridge deck waterproofing system is based on the company's unique ESSELAC® resin technology, which protects against corrosion and contributes to achieving a predicted minimum 120- year design life."
Protecting the superstructure
The chosen waterproofing solution would need to meet the construction standards of China, Hong Kong and Macao and offer the highest quality and durability. The waterproofing system also needed to withstand the warm marine climate both during application and for the long term.
The chosen provider would need to be able to meet the huge capacity of the structure within a tight delivery programme, and manage aspects the project's commercial, logistical and technical support and quality assurance.
After extensive review and analysis of bridge deck waterproofing systems, the Hong Kong-Zhuhai-Macao Bridge Authority found that the ELIMINATOR® system was the ideal waterproofing solution.
"Such a momentous project relied on the highest levels of integrity, performance, service, and quality and GCP Applied Technologies proved that it was able to deliver."
ELIMINATOR® bridge deck waterproofing system
The ELIMINATOR® bridge deck waterproofing system was applied to approximately 500,000m2 of the three steel navigation bridge sections in mainland China waters. The use of Zed S94 enhances the strong bond of the ELIMINATOR® membrane to the deck.
Working in Asia's warm climate means that the fast curing, flexible resins harden within minutes and are fully cured in just half an hour. The membrane can be trafficked if needed after just one hour, allowing trades to carry on working.
To complete the waterproofing, a thinner layer of red Tack Coat No.2 was applied. This tack coat dries quickly to a hard surface, which is resistant to the wheel loads of the asphalt paving plant. When the 230°C hot-poured asphalt is applied directly to this heat-activated tack coat, as it cools a strong chemical bond is formed, allowing the whole surface pavement system to work compositely in transmitting and dissipating the considerable stresses and strains induced by traffic loading and structural movements.
Such a momentous project relied on the highest levels of integrity, performance, service and quality, and GCP Applied Technologies proved that it was able to deliver.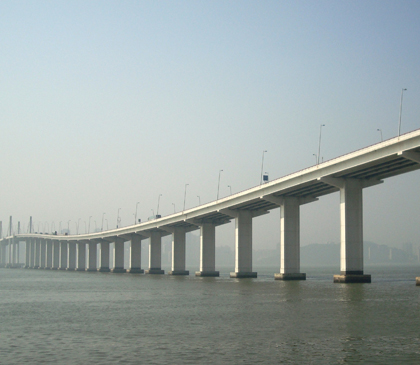 gcpat.com | North America Customer Service: +1 (877) 423 6491
Australia 1800 855 525 New Zealand 0800 552 235 China Mainland +86 21 3158 2888 Hong Kong +852 2675 7898 Indonesia +62 21 893 4260 Japan +81 3 5226 0231 Korea +82 32 820 0800 Malaysia +60 3 9074 6133 Philippines +632 236 6820 Singapore +65 6265 3033 Thailand +66 2 030 9700 Vietnam +84 28 3710 6168
We hope the information here will be helpful. It is based on data and knowledge considered to be true and accurate, and is offered for consideration, inves- tigation and verification by the end user, but we do not warrant the results to be obtained. Please read all statements, recommendations, and suggestions in conjunction with out conditions of sale, which apply to all goods supplied by us. No statement, recommendation, or suggestion is intended for any use that would infringe any patent, copyright, or other third party right.
GCP Applied Technologies, GCP, ELIMINATOR and ESSELAC are trademarks which may be registered in the United States and/or other countries, of GCP Applied Technologies Inc. This trademark list has been compiled using available published information as of the publication date and may not accurately reflect current trademark ownership or status.
© Copyright 2018 GCP Applied Technologies, Inc. All rights reserved.
GCP Applied Technologies Inc., 62 Whittemore Avenue, Cambridge, MA 02140, USA

GCP Applied Technologies Inc., 2325 Lakeview Parkway, Suite 400, Alpharetta, GA 30009, USA
GCP Canada, Inc., 294 Clements Road, West, Ajax, Ontario, Canada L1S 3C6
This document is only current as of the last updated date stated below and is valid only for use in the United States. It is important that you always refer to the currently available information at the URL below to provide the most current product information at the time of use. Additional literature such as Contractor Manuals, Technical Bulletins, Detail Drawings and detailing recommendations and other relevant documents are also available on www.gcpat.com. Information found on other websites must not be relied upon, as they may not be up-to-date or applicable to the conditions in your location and we do not accept any responsibility for their content. If there are any conflicts or if you need more information, please contact GCP Customer Service.
Last Updated: 2023-04-25
https://gcpat.com/en/about/project-profiles/eliminator-bridge-deck-waterproofing-system-protects-hong-kong-zhuhai-macao