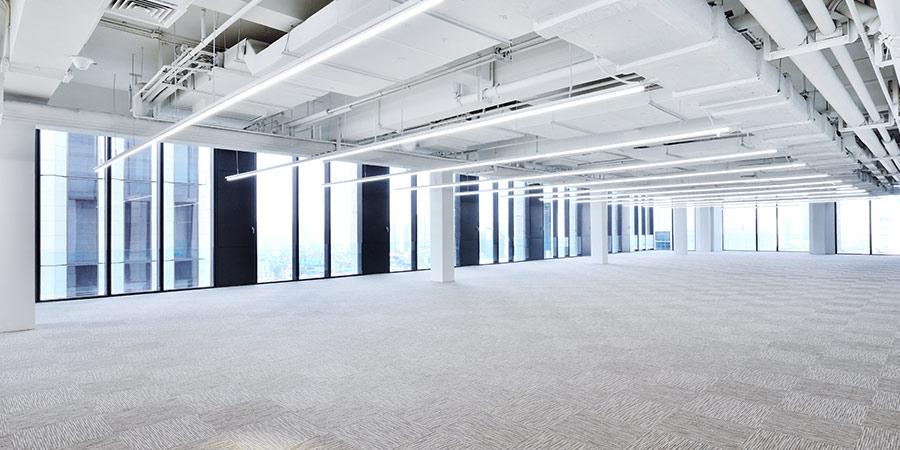 When flooring budgets are tight, contractors often look for ways to keep installation costs down. For projects where high moisture in the concrete slab is an issue, installers may automatically turn to one of the lower-cost "high-performance" adhesives on the market rather than using a rolled moisture barrier specifically designed for moisture mitigation.
High-Performance Adhesives
At first glance, a high-performance adhesive may seem like a cost-effective solution for all projects. Some of these products claim to have moisture control properties, so it's like getting two products—flooring adhesive and moisture barrier—in one. But in some cases, that "high-performance" product may not perform as expected.
A key cause of adhesive failure is alkalinity. When moisture is highly alkaline, it can degrade most water-based adhesives. If the adhesive is not specifically designed for high-alkalinity environments, it can re-emulsify. When this occurs, the product cannot effectively provide adhesion or moisture control. At that point, the flooring itself can fall victim to the ravages of moisture and alkalinity.
Negative Effects of Alkalinity
How common is alkalinity in concrete slabs? Alkalinity forms naturally during the reaction of Portland cement with water when concrete is mixed. It's not unusual for cured concrete to have a pH of 12. Depending on the specific concrete mix, the amount of moisture in the slab, capillary action of the slab and other factors, alkalinity at the surface of the concrete can be either higher or lower than this norm. If the adhesive is not designed to stand up to this level of alkalinity, it can degrade over time.
When that happens, so much for saving money. If a floor needs to be repaired or replaced due to failure caused by exposure to high alkalinity and/or moisture, the cost could exceed by many times what was saved by using a high-performance adhesive rather than a material made specifically for extreme conditions, such as a high-quality rolled moisture mitigation solution like the KOVARA floor moisture barrier. It can be a classic case of "penny wise and pound foolish," potentially resulting in a callback that could do serious damage to the contractor's wallet, as well as to his or her professional reputation.
Avoiding Costly Repairs
What can you do to avoid this scenario? First, all concrete slabs should be tested for relative humidity (RH) and for alkalinity (pH) prior to installing flooring. If either RH or pH exceeds levels recommended by the flooring product manufacturer and adhesive manufacturer, employ a moisture mitigation solution designed to stand up to high levels of moisture and alkalinity. Market-leading rolled moisture barriers may be rated to perform at up to 99.5% RH and at high pH levels commonly found in concrete slabs. This provides a reliable, protective barrier between the concrete slab and the flooring—one designed specifically for this purpose.

Before relying on an adhesive in extreme moisture situations, make sure to do your homework. It could end up being a very expensive way to cut costs.
Tags
Airports
Arts & education
Building Envelope Solutions
Commercial buildings
Flooring
Industrial facilities
Infrastructure
KOVARA
Repair and Renovation
Residential buildings
Retail buildings
Schools
Sports stadiums
VERSASHIELD