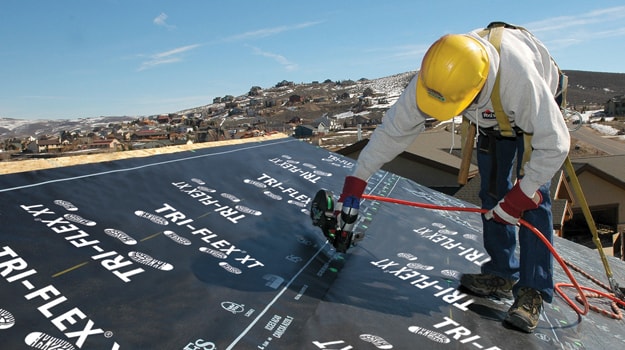 TRI-FLEX® XT: Premium performance in synthetic roofing underlayments
TRI-FLEX® XT is a mechanically–attached synthetic roofing underlayment designed to overcome the shortcomings of traditional roofing felt, and features an improved slip resistance coating on the membrane, providing superior foot traction and a safer surface to walk on.
TRI-FLEX® 15 extends exposure up to 60 days
TRI-FLEX® 15 is designed to provide a cost competitive alternative to #15 felt, while providing the cutting-edge features of a synthetic underlayment that reduce time and labor. The extended exposure limit provides contractors with added flexibility to accommodate the unpredictable construction schedules without compromising performance.
Tags
Contractor
Distributor
Residential buildings
Roof Protection
Subcontractor
TRI-FLEX
Waterproofing