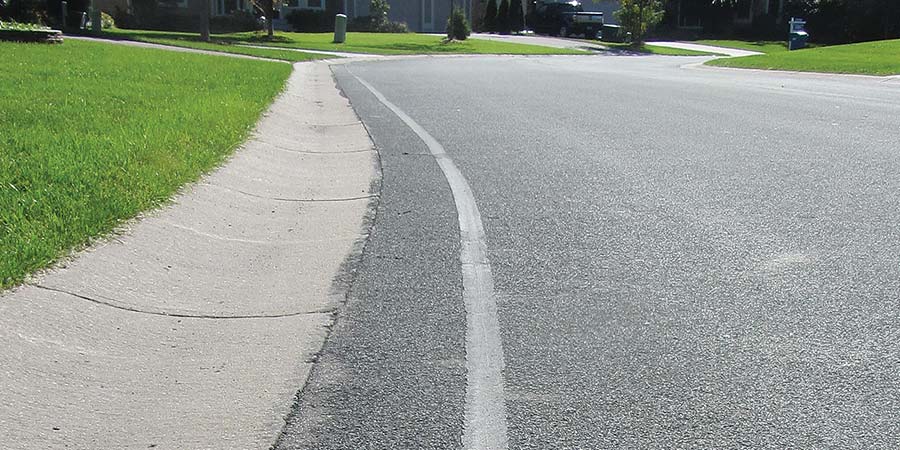 In recent years, microtrenching has become an attractive way for urban developers to install fiber optic cable in heavily congested areas. It's less invasive than traditional installation methods—running cables up on powerlines or boring far deeper and wider trenches. And, if installed properly, the microtrench and its installed cables will stand the test of time.
What is microtrenching?
The term "microtrenching" indicates a technique for deploying cables (e.g. for broadband networks) at a lower cost than by usual methods. A microtrencher is a "small rockwheel" specially designed for work in urban areas. It's fitted with a cutting wheel that saws a micro-trench with smaller dimensions than the ones achieved with conventional trench digging equipment. The trench dimensions range from about 0.5-2 inches in width, and at maximum depths of two feet.
Once the microtrencher cuts its tiny slot on the side of the road, installers then go in and lay the cables' protective ducts, through which they pull or push the fiber optic cables.
Finally, applicators pour or pump the infill resin into the micro-trench. An ideal infill system will include two layers. The first layer can be dyed bright orange as a dig-safe indicator. Workers then go over that layer with a second application of the product, which is pigmented to match the road color.
The result on the road section where the infill system is installed is a barely visible reinstatement with a stronger bond than the initial asphalt's cohesive strength.
Best-in-class microtrenching technique
In order for microtrenching—still a fairly new process—to be successful, road workers must employ the proper installation technique, as well as leverage the correct components. Otherwise, the system can unravel, which leads to costly repairs.
Once the micro-trench is cut, and the cable and protective duct is laid, it's imperative that installers place an infill that will stand the test of time. The infill is, after all, the last touch of this road reinstatement.
A cold, liquid-applied microtrenching reinstatement resin infill self-consolidates, taking the shape of its micro-trench. You should look for a product that is specifically designed for microtrenching infill, such as SAFETRACK™ RMP 100 system. Under most climates, its resin will cure completely in under 40 minutes, forming a bond stronger than the original asphalt's cohesive strength. Furthermore, unlike some traditional road infill products, the SAFETRACK™ system requires no hot-works.. More than 2.6 million linear feet have been installed using SAFETRACK™ RMP 100 infill around the world, with a high speed of installation. On a recent project, the contractor was able to excavate, lay the fiber optic cable and reinstate up to 820 linear feet a day within very short road closures. This was more than three times as fast as traditional techniques. 
Tags
Infrastructure
Road Maintenance
SAFETRACK
Transportation Infrastructure