GCP Waterproofing Alaskan Way Viaduct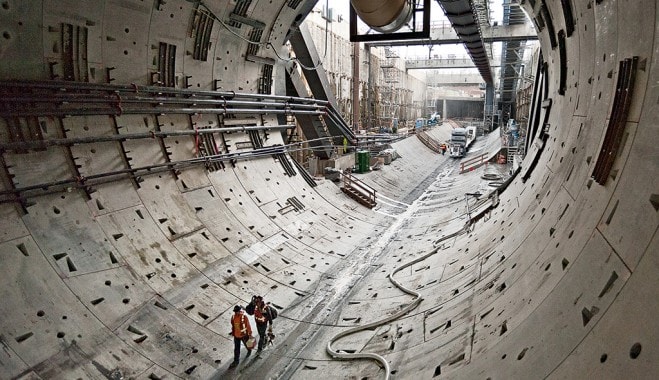 The Alaskan Way Viaduct—a $4.5 billion, 2-mile-long tunnel—boring deep beneath downtown Seattle, has its share of challenges. But the construction crew has got waterproofing covered. 

GCP Applied Technologies was commissioned to waterproof the north and south portals, plus the operations buildings on either side of the tunnel. 

GCP applied Preprufe® 300R, Preprufe® SCS and Bituthene® membran​es to the south portal, with the lowest points about 80 feet in the water table. There is over 350,000 square feet of Preprufe SCS, 600,000 square feet of 300R, and about 150,000 square feet of Bituthene on the portals and operations buildings. 

The waterproofing installation began in June 2013, and is scheduled to finish mid-2016. GCP was selected over other manufacturers because of its ability to apply products in the very challenging and wet conditions, even amidst brackish and contaminated soils throughout the project. The job is essentially at sea level. 

The north portal project started about a year after its sister south. The north and south portals are each about 2,000 LF long, starting at grade, and ending up about 80 feet deep.
Both portals are extremely complex structures, with multiple lanes of highway merging into different levels of the tunnel.
​​The contractor has been very vocal about what a success story the waterproofing has been on this major project. ​Neither wet winters, leaky ground conditions, nor problems with other trades have impacted GCP's applications of Preprufe® 300R, Preprufe® SCS and Bituthene® on the Alaskan Way Viaduct.
WATCH: Preprufe® SCS in action
Tags
PREPRUFE
Shotcrete
TYTRO
Tunneling
Underground Solutions
Water stop
Waterproofing