Product Description
DE NEEF® Superflex is unique blend of methacrylic acrylate copolymers that combines the low viscosity of traditional acrylate resins with the elongation and adhesion typically associated with polyurethane resins. Its low viscosity makes it ideal for injection into pores, capillaries, hairline cracks, and honeycombed concrete. DE NEEF® Superflex's low surface tension also make it suitable for penetration into soils, making it an excellent choice for curtain wall grouting. Pumped at 1:1, it polymerizes to form a resilient, highly elastomeric gel with elongation > 300%
Product Advantages
Exceptionally low viscosity – penetrates cracks 0.1mm (0.004").
Post reaction expansion of up to 56%
ANSI/NSF 61 Certified for use with potable water
Non corrosive and non toxic
Insoluble in water and petroleum based solvents once cured.
Resistant to most acids and alkalis
Excellent thermal resistance 40ºF - 160ºF
Reaction time can be controlled
Product Applications
DE NEEF® Superflex is designed for use in any below ground structure or any water retaining structure, where there is permanent moisture. Especially well suited for:
Hairline and spider cracks in concrete
Re-injection of failed polyurethane grout
Expansion & moving joints
Honeycombed concrete
Curtain grouting 
Potable water applications
Installation Guidelines
Mixing: 
In a clean pail pour desired amount of DE NEEF® Superflex and add TE-300 in accordance with the Mix Ratio table to achieve the desired set time. Mix well. In a separate clean pail pour clean water of equal quantity to the amount of DE NEEF® Superflex previously poured. Add SP-200 in accordance with Mix Ratio Table and mix well. If extended set times are required KF-500 (retarder) can be added to the resin side; please consult DE NEEF®  Technical Service.
Pumping:
DE NEEF® Gelacryl Superflex is pumped at 1:1 through a pump with all stainless steel wetted components. Always begin at the lowest pressure setting available on the pump and increase to the minimum pressure required to get desired resin flow.
Crack Injection: 
For concrete crack injection applications consult DE NEEF® Standard Crack Injection Procedures. Due to the ultra low viscosity of the DE NEEF® Superflex resin, larger cracks may require application of a surface seal such as hydraulic cement or epoxy.
Curtain Wall grouting: 
For curtain grouting applications consult DE NEEF® Standard Curtain Grouting Procedures. Adjust set time to allow for permeation through soils surrounding the structure.
Confirm product performance in specific chemical environment prior to use.
Mix Ratios
Reactivity T° (F)
DE NEEF® Superflex (gal)
TE300 (oz)
% TE300
Water (gal)
SP200 (oz)
% SP200
Gel Time (min)
41
5.6
32
4.5
5.6
40
24
16
5.4
3.2
2.1
1
2
3
50
5.6
22
3.1
5.6
32
16
18
4.3
2.1
1.1
1
2
3
59
5.6
18
2.6
5.6
24
16
8
3.2
2.1
1.1
1
2
3
68
5.6
14
1.9
5.6
24
16
8
3.2
2.1
1.1
1
2
3
77
5.6
18
2.5
2.0
1.5
5.6
18
14
10
2.5
2.0
1.5
0.5
1
3
DE NEEF® Superflex is designed for use below ground or where there is permanent moisture. Gel time varies depending on the amount of acceleration and temperature. See chart above for time and temperature information. For concentrations above 3%, use TE-300 at 3% and increase SP-200 only. Adding excessive amounts of TE-300 can adversely affect the quality of the reacted gel. (All results above are based on 77ºF. Site trials should always be carried out to determine the gel time required.)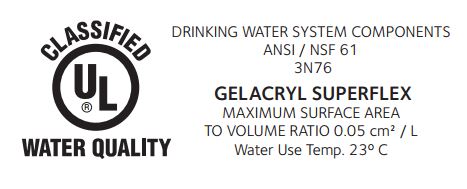 Packaging & Handling
DE NEEF® Superflex is packaged as a kit consisting of a of 5.6 gallons of grout (55/lb jerrican), 2 lbs. jar of SP-200 initiator*, and 28 oz. can of TE-300 activator. Shelf life for TE-300 activator is 6 months.
*Shipped: Oxidizer (shipped as haz-mat)
All components should be stored in a dry place at temperatures between 40°F and 80°F. Do not thin with solvents.
Warning! Do not let SP-200 and TE-300 come into contact with each other prior to field mixing. A poisonous gas may result! STORE COMPONENTS SEPARATELY FROM EACH OTHER
Limitations
Low temperatures will significantly elongate set times. For best results, bring product to a minimum temperature 50°F for a minimum period of 24 hours prior to use. If site temperatures are extremely low, material should be held in a warm area before and during use to maintain the products temperature. Allow no water into open containers. Do not apply when ice is present. DO NOT EXCEED 90ºF WHEN WARMING.
CAUTION – pH NOTICES
Water used to activate grouts ("B" side of mix) must be in a range of pH 5.5 – 7 for optimum grout quality.
Varying water pH will cause the reaction times to change.
Groundwater should be in the range of pH 3-12.
Health and Safety
WARNING: 
TE-300 and SP-200 are incompatible with aluminum. Do not use aluminum equipment in the presence of TE-300 and SP-200.
In the event of an EMERGENCY call: CHEMTREC 800-424-9300.
Always use protective clothing, gloves and goggles consistent with OSHA regulations during use. Avoid eye and skin contact. Do not ingest. Refer to Safety Data Sheet for detailed safety precautions.
Properties
| DE NEEF® SUPERFLEX |   |
| --- | --- |
| Viscosity at 77ºF | 15-20 cps |
| Mixed Viscosity | 6-8 cps |
| Appearance  | Blue Green |
| Specific Gravity | 1.17 |
| Elongation at Break | 300% (ASTM 638) |
| Post Reaction Expansion | 56% at 90% Humidity |
| Permeability at 29 psi | 3.53 x 10-9 cm/s |
Note: The data shown above reflects typical results based on laboratory testing under controlled conditions. Reasonable variations from the data shown above may result.