Project
Exterior Elevations Project
GCP Solution
VYCOR® enV-S™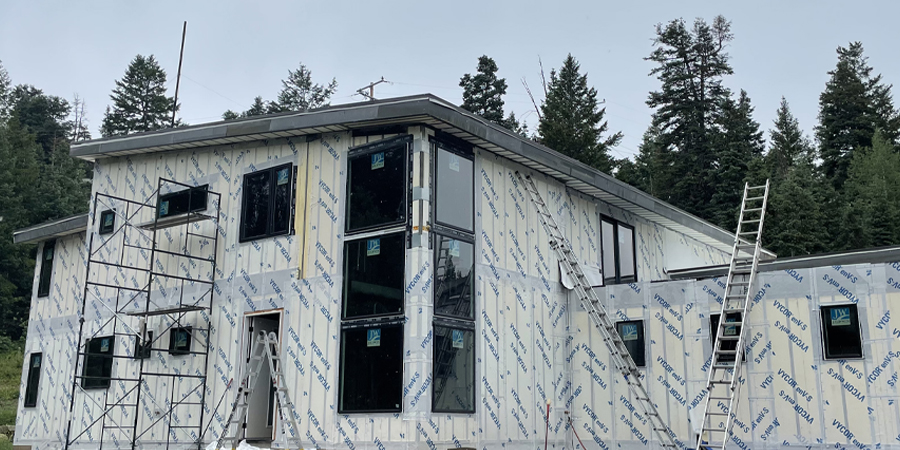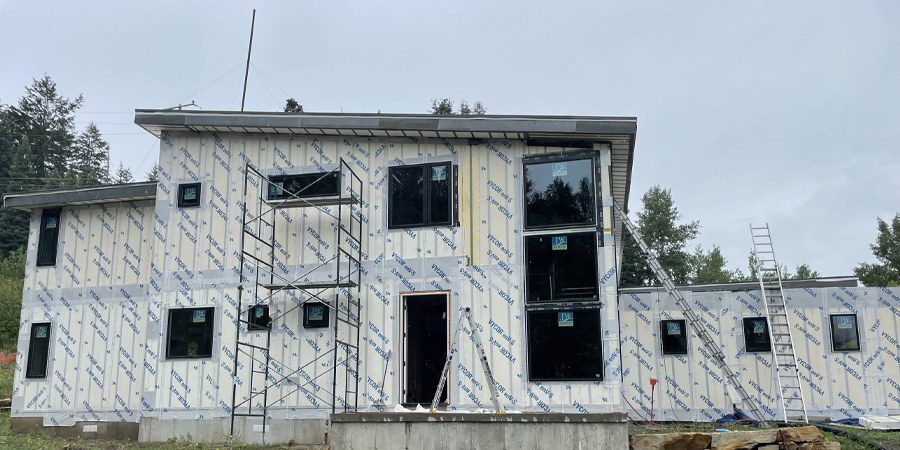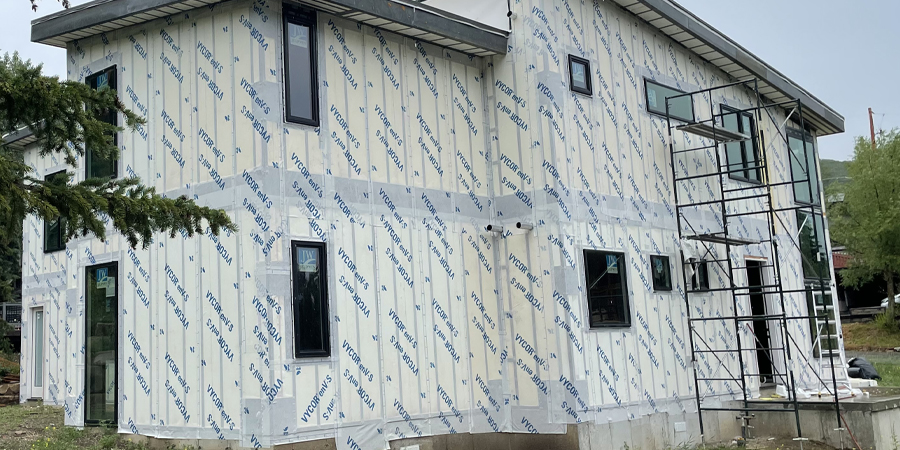 The Project
A restaurateur with a passion for building energy efficient houses set out to build his forever home in Park City, Utah. He designed his new home with contemporary styling with a focus on energy efficiency and savings.
The Utah home is 4,500 square feet, two stories with four bedrooms and a garage. Instead of traditional wood framing, high performance panelized building components were selected to provide premium energy efficiency. The panelized building components were used for the floors, walls and roof. The home was built with geo-foam walls and heavy duty steel beams to create a durable structure.
---
The Challenges
Park City rises into the clouds atop the Wasatch Mountains, at 7,000 feet above sea level. While the setting is beautiful, it is also vulnerable to extreme weather year round due to the high elevation. The home needed to withstand punishing winds, snow and rain, while also achieving the goal of premium energy efficiency to keep heating and cooling costs low.
Another key concern was keeping sound out. Mother Nature can be very noisy up in the mountains, so it was important to protect the interior of the home from her loud winds, banging rain and other disruptions.
Lastly, as Park City is near the Wasatch Fault, the home is also vulnerable to earthquakes. 
The use of the panelized building components provided many benefits for combating the extreme weather, sounds and earthquakes. They found that the panelized system was so strong on its own that in many areas of the home it did not need exterior wood sheathing. However, this was a challenge when it came time to select a weather resistive barrier for the home. The team found that many of the weather barriers on the market are designed for application to wood sheathing only. Thus, a new type of weather resistive barrier was needed.
---
The Solution
After research, the building team discovered GCP's VYCOR® enV-S™ self-adhered weather resistive barrier. The fully-adhered weather barrier seals to the substrate, including steel and foam, seals to itself at overlaps and seals around the thousands of fasteners used to attach siding, trim and other decorative features, forming a water- and air-tight seal.
GCP sent their local representatives out to the jobsite where they provided samples to test. The bond was significant. They then pursued the opportunity to study the application for the final exterior. They met with the Summit County building officials and found it exceeded IRC code requirements. The project was a go.
Using the latest in building science and technology, VYCOR® enV-S™ creates air-tight, yet breathable homes. The well-respected Oak Ridge National Labs tested and evaluated the annual heating and cooling savings potential of the VYCOR® enV-S™ membrane. Their testing found that VYCOR® enV-S™ boasts an air leakage rate that is seven times lower than a leading conventional housewrap. Lower air leakage results in a more energy efficient home. The nationally renowned lab also concluded that VYCOR® enV-S provides 46.3% more energy savings than a traditional housewrap. 
Park City is a hot spot for Net Zero homes. Celebrities flock to the area to build highly energy efficient homes with big views and big price tags. However, due to the location's high altitude and harsh weather, durable and high performing building products are required to meet the Net Zero standards.
GCP's VYCOR® enV-S™ self-adhered weather resistive barrier is the ultimate energy savings solution for this project and others in the challenging Utah climate. The barrier sealed tightly to the steel and foam construction of Bill's dream home, protecting it from severe weather and keeping the interior warm, dry and quiet. VYCOR® enV-S™'s enhanced energy efficiency, superior long-term weather protection and ability to adhere to the home's innovative building materials, checked all the boxes for the builder and homeowner.
gcpat.com | North America Customer Service: +1 (877) 423 6491

GCP Applied Technologies Inc., 2325 Lakeview Parkway, Suite 400, Alpharetta, GA 30009, USA
GCP Canada, Inc., 294 Clements Road, West, Ajax, Ontario, Canada L1S 3C6
This document is only current as of the last updated date stated below and is valid only for use in the United States. It is important that you always refer to the currently available information at the URL below to provide the most current product information at the time of use. Additional literature such as Contractor Manuals, Technical Bulletins, Detail Drawings and detailing recommendations and other relevant documents are also available on www.gcpat.com. Information found on other websites must not be relied upon, as they may not be up-to-date or applicable to the conditions in your location and we do not accept any responsibility for their content. If there are any conflicts or if you need more information, please contact GCP Customer Service.
Last Updated: 2023-04-25
https://gcpat.com/en/about/project-profiles/reaching-mountain-high-efficiency-protection