SILCOR® Primer EPS (US Version)
Two component, epoxy primer for use with SILCOR® liquid waterproofing membranes for hot weather applications
Product Description
SILCOR® Primer EPS is a two-component epoxy primer specifically formulated for application in hot weather conditions. Pot life and the reaction at 95ºF is similar to the pot life and the recoat time of a standard epoxy primer at 68ºF. All components are pre-weighted in an easy to mix system.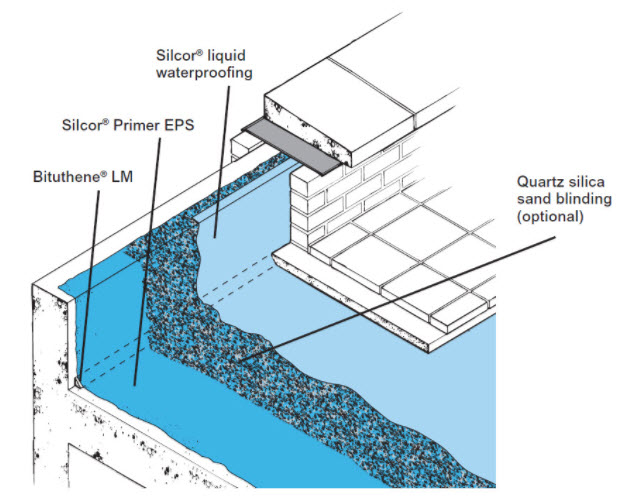 Product Advantages
Adjusted pot life and curing for hot weather applications
Excellent adhesion: exceeds concrete cohesive strength
Easy to use multi-purpose primer
Easy to apply by roller or brush
Principal Applications
Epoxy primer for hot weather applications prior to the application of SILCOR® liquid waterproofing membranes.
Installation
1. Surface Preparation
Minimum cohesive strength of concrete required is 115 psi for limited access roofs and 215 psi for vehicular trafficked decks. Where these values are not achieved by pull-off adhesion testing, remove all laitance by shot blasting.
Surfaces must be clean, sound, free of dust, laitance, sealers, grease or any other contaminants that might reduce adhesion.
If power washing the substrate, allow sufficient time for the residual humidity to dissipate. The substrate moisture content before application of the primer must be less than 5%. The primer surface before application of SILCOR® liquid membrane
must be clean and dry.
For further details concerning surface preparation guidelines and primer choice, refer to the SILCOR® Application Manual.
2. Mixing
Store SILCOR® Primer EPS in a dry and cool place, out of direct sunlight.
Add the complete B-component to the A-component to assure correct mixing ratio.
Mix with a slow turning mixer (less than 300 rpm) for 3 minutes in order to obtain a homogenous mixture.
Details shown are typical illustrations only and not working drawings. For assistance with working drawings and additional technical advice please contact GCP Technical Services.
3. Application
The substrate application temperature must be between 65°F and 105°F.
Apply SILCOR® Primer EPS to the surface by brush or roller immediately after mixing ensuring coverage of the entire surface.
Pour the primer onto the surface in a zigzag trail.
After pouring onto the surface, distribute the primer evenly with foam rubber squeegees and roll using Perlon rollers.
The primer should be evenly distributed at 10 mils thickness with complete coverage of the surface.
If the surface is very porous and absorbs primer to an extent that open surface remains, additional primer should be added in this area within the pot life or recoat time of the primer.
4. Curing
The SILCOR® membrane should be applied within 24 hours. This window is influenced by ambient temperature and humidity. When this time is exceeded before the membrane is applied, re-apply a new layer of SILCOR® Primer EPS.
The SILCOR® membrane application window using SILCOR® Primer EPS can be extended by broadcasting dry quartz silica sand into the primed surface. Broadcast sand to full saturation. Use sand of 16/30 mesh for coating thickness of up to 80 mils. For larger coating thicknesses larger grain sizes can be used. Remove surplus sand and partially bonded particles with a scrubber after the primer is dry to the touch.
SILCOR® Primer EPS can be filled with dry quartz silica sand (20/40 mesh) to make a scratch coat for repairing and leveling small surface defects before the application of the membrane.
5. Cleaning
Mixing and application equipment should be cleaned immediately with mineral spirits. Remove hardened material mechanically. All solvents should be used only in accordance with manufacturer's recommendations.
Supply
|   | APPROX. UNIT SIZE |
| --- | --- |
| SILCOR® Primer EPS Part A | 1.5 gal |
| SILCOR® Primer EPS Part B | 0.9 gal |
Properties
| PROPERTY | TYPICAL VALUE |
| --- | --- |
| Adhesion to concrete | surpasses concrete coherence |
| Density | 8.8 lbs/gal |
| Viscosity (mixture) at 95°F | Approx. 500 cps |
| Pot Life (250 g) at 95°F | Approx. 40 min |
| Touch dry time at 95°F | Approx. 3 hours |
| Full cure | 7 days |
| Minimum substrate application temperature | 65°F |
Coverage
Approximately 125 ft2/gal (300 ft2/kit), actual will vary depending on the absorption and profile of the surface.
Storage
SILCOR® Primer EPS should be stored under cover, protected from moisture in original sealed containers above 40°F (5°C) and below 80°F (25°C) or crystallization may occur. Shelf life is 2 years in unopened containers stored under the conditions described above.
Health and Safety
Read the product label and SDS (Safety Data Sheet) before use. SDSs can be obtained from GCP Applied Technologies.
gcpat.com | North America Customer Service: 1 877-4AD-MIX1 (1 877-423-6491)
We hope the information here will be helpful. It is based on data and knowledge considered to be true and accurate, and is offered for consideration, investigation and verification by the user, but we do not warrant the results to be obtained. Please read all statements, recommendations, and suggestions in conjunction with our conditions of sale, which apply to all goods supplied by us. No statement, recommendation, or suggestion is intended for any use that would infringe any patent, copyright, or other third party right.
SILCOR and BITUTHENE are trademarks, which may be registered in the United States and/or other countries, of GCP Applied Technologies Inc.This trademark list has been compiled using available published information as of the publication date and may not accurately reflect current trademark ownership or status.
© Copyright 2018 GCP Applied Technologies Inc. All rights reserved.
GCP Applied Technologies Inc., 62 Whittemore Avenue, Cambridge, MA 02140 USA.
In Canada, GCP Canada Inc. , 294 Clements Road, West, Ajax, Ontario, Canada L1S 3C6.
This document is only current as of the last updated date stated below and is valid only for use in the United States. It is important that you always refer to the currently available information at the URL below to provide the most current product information at the time of use. Additional literature such as Contractor Manuals, Technical Bulletins, Detail Drawings and detailing recommendations and other relevant documents are also available on www.gcpat.com. Information found on other websites must not be relied upon, as they may not be up-to-date or applicable to the conditions in your location and we do not accept any responsibility for their content. If there are any conflicts or if you need more information, please contact GCP Customer Service.
Last Updated: 2019-04-02
https://gcpat.com/en/solutions/products/silcor-900-series-liquid-waterproofing/silcor-primer-eps