Product Description
Hydrotint® liquid synthetic pigments are aqueous slurries of high-quality, non-fading, inert, iron oxide pigments, with special dispersants and stabilizers which comply with ASTM C979 Standard Specification for Pigments for Integrally Colored Concrete.
Four Hydrotint primary colors, A875 Black, A550 yellow, A1010 Light Red and A1070 Medium Red, are formulated exclusively for use in the Chameleon®, a state-of-the-art PC controlled automated dispensing system. Plant blending of these primary colors produces a wide range of standard or custom pigments for integrally colored Ready Mix and Precast concrete.
Hydrotint A8090 is a concentrated high quality carbon black based dispersion, treated in a proprietary process so that it readily mixes into the concrete for maximum color enhancement. The product complies with all aspects of ASTM C979, except that it could have an effect on air entrainment.
Uses
Hydrotint Liquid Pigments are often used in Ready
Mix concrete for driveways, pool decks, patios and walkways. Hydrotint can also be mixed into concrete for architectural applications as well as precast, prestressed, tilt-up and other building applications.
Design & Mixing Requirements
Use the same pigment-to-cement ratio, water-to-cement ratio, type and brand of cement and aggregates throughout a project. Different cements, aggregates, mixing times, job site conditions and contractor techniques can alter the final color of a project.
Keep slump below 5 in. (12.5 cm) and water content consistent. High water content causes concrete to appear pale or "faded". If a higher slump is required, use a GCP water-reducing admixture instead of adding water.
Specify air content of 5% to 7% with air-entraining agents for improved workability and long-term durability in freeze/thaw climates. Schedule loads for consistent mix time.
Deliver and discharge fresh colored concrete in less than 1 1/2 hours. To mix, add Hydrotint Liquid Pigments to the concrete batch and mix at charging speed for at least 5 minutes.
Carbon black can leach out of hardened concrete when exposed to repeated wetting and drying. Concrete colored with carbon black should be sealed to minimize this effect from long-term exposure to weather and water.
Product Advantages
Verifiable, consistent dosage of pigment
Easy to produce a broad range of colors
Rapid pigment dispersion with no bags in the mix
Light-fast pigments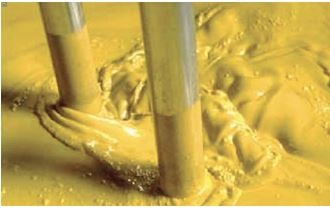 Compatibility with Other Admixtures and Batch Sequencing
Hydrotint colors are compatible with all standard concrete mixes including those containing blast furnace slag, fly ash and silica fume. However, concrete must be tested as final colors will likely no longer match standard color charts. Calcium Chloride accelerators cause blotching and discoloration and should not be used in colored concrete. Carbon black reduces or negates the effect of air-entraining agents. With air-entrained concrete, iron oxide black should be used instead of carbon black.
All colored concrete mixes must be tested and qualified prior to actual use. Any changes in mix proportions or raw materials may impact the plastic or hardened concrete properties and will require retesting prior to actual use. When working with colored concrete, all ACI guidelines and applicable codes must be followed.
Packaging & Handling
Hydrotint Liquid Pigments are available in 4,000 lbs (1,814 kg) totes; Hydrotint A8090 Black is available in 2,500 lbs (1,134 kg) totes.
GCP is the exclusive distributor of Hydrotint Liquid Pigments throughout the United States and Canada for Ready Mix and Precast/Prestressed concrete. For more information, please contact your local GCP representative.
Dispensing Equipment/Storage
Keep from freezing. Product must be discarded if exposed to frozen temperatures and must be kept below 122 °F (50 °C) at all times. Always load Hydrotint into the Chameleon system as soon as possible. Keep all shipping totes dry. Advanced formulation allows up to a two-year shelf life without hard settlement. When stored greater than two months some agitation may be required for a consistent flow from the storage totes.
gcpat.com | North America Customer Service: 1 877-4AD-MIX1 (1 877-423-6491)
We hope the information here will be helpful. It is based on data and knowledge considered to be true and accurate, and is offered for consideration, investigation and verification by the user, but we do not warrant the results to be obtained. Please read all statements, recommendations, and suggestions in conjunction with our conditions of sale, which apply to all goods supplied by us. No statement, recommendation, or suggestion is intended for any use that would infringe any patent, copyright, or other third party right.
Hydrotint, Chameleon and Davis Colors are trademarks, which may be registered in the United States and/or other countries, of GCP Applied Technologies Inc. This trademark list has been compiled using available published information as of the publication date and may not accurately reflect current trademark ownership or status.
© Copyright 2018 GCP Applied Technologies Inc. All rights reserved.
GCP Applied Technologies Inc., 62 Whittemore Avenue, Cambridge, MA 02140 USA.
In Canada, 294 Clements Road, West, Ajax, Ontario, Canada L1S 3C6.
This document is only current as of the last updated date stated below and is valid only for use in the United States. It is important that you always refer to the currently available information at the URL below to provide the most current product information at the time of use. Additional literature such as Contractor Manuals, Technical Bulletins, Detail Drawings and detailing recommendations and other relevant documents are also available on www.gcpat.com. Information found on other websites must not be relied upon, as they may not be up-to-date or applicable to the conditions in your location and we do not accept any responsibility for their content. If there are any conflicts or if you need more information, please contact GCP Customer Service.
Last Updated: 2018-11-29
https://gcpat.com/en/solutions/products/hydrotint