Hurricane home repairs
Roof it right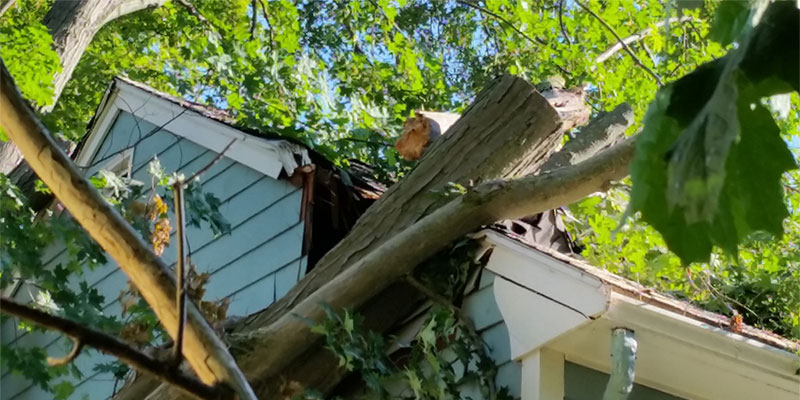 The unfortunate reality of hurricane season 2017 is that two major hurricanes, Harvey and Irma, have devastated areas of the U.S. and the Caribbean. As we all come together to assist neighbors and help them rebuild their lives, homeowners are now beginning to assess the damage to their homes. The roof of a home is subjected to the severe impact of wind and rain, and its repair is a top priority for your family's return home.
When repairing a roof, it is critical to not just patch it, but to rebuild it so it is capable of withstanding future events. A roof that is properly constructed with the right materials will defend your home against the next storm.
Find a Pro and Get Dry
Find a reliable, knowledgeable professional that can perform work safely. It's best that all inspections, maintenance and repairs are completed by trained and experienced people. The first step is for the contractor to "dry-in" the home. While this is often completed with the "blue tarp" that becomes ubiquitous after a hurricane, roofing manufacturers now offer synthetic roofing underlayments, which are designed to provide a temporary dry-in and can be exposed for a long period.
You should demand that they re-build your roof to meet or exceed the standards of the local building code. A trained professional can provide the guidance you need to evaluate if the framing or roof sheathing needs to be fortified or replaced.
Request that they use high quality materials to perform the repair. The amount of money you can save by selecting less expensive, lower quality products is insignificant compared to the damage caused by water inside your home.
Undertsand Your Roof Structure
The complete roof system consists of multiple layers – not just the shingles. Though shingles are the exterior layer, shingles alone will not keep the water out from the next major storm. What makes the difference and protects your roof from water damage is the roofing underlayment, which is installed underneath the shingles. Roofing underlayments perform many functions in a roofing assembly, but first and foremost, they serve as the last line of defense between homeowners and the damaging effects of water infiltration.
Use the Right Products
Don't skimp on quality to save a few cents. Much of the roof damage associated with hurricanes and other serious storms results from water entering the home when roof coverings, such as shingles and the felt underlayment, are blown off. This is why it is imperative that you have a secondary layer of waterproofing protection underneath the shingles. Self-adhering membranes provide superior protection against water infiltration, when the roof covering is compromised. If proper protection measures are not taken, the resulting leaks are the main cause of interior damage, as well as potential causes of rot and mold. Rot and mold can lead to major structural damage and potential health problems for homeowners.
FEMA has published recommendations for the use of fully-adhered roofing underlayments as an enhanced secondary water barrier for homes in both coastal and inland hurricane-prone areas. To ensure quality roof protection, contractrors have relied on GRACE ICE & WATER SHIELD® fully-adhered roofing underlayment from GCP Applied Technologies for almost 40 years. It provides premium performance as it seals to itself at overlaps, seals to the roof deck and, most importantly, seals around the fasteners used to attach the shingles. All of these features help prevent water from leaking into your home. In the event roof coverings are blown off or water manages to get underneath your shingles, these underlayments are the key to preventing water infiltration and damage.
By selecting a trusted building professional to repair your storm damage and using quality products, you help ensure a strong roof over your head, protecting your home, family and finances from future storms.
Tags
Residential
Roofing
Roofing underlayments
Underlayment