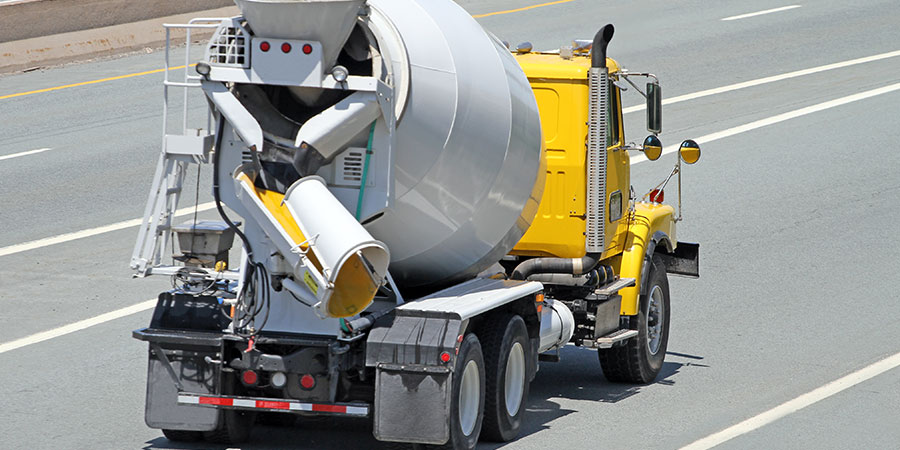 One of the National Ready Mixed Concrete Association's (NRMCA) goals is to advance the industry away from prescriptive specifications into more versatile performance specifications†. Officially known as the P2P Initiative, the movement calls for fostering innovation and acceptance of new technology at a faster pace.
One such technology that could "drive" this initiative is an in-transit concrete management system—onboard hardware and software mounted to the ready mix truck to monitor, measure and, most importantly, manage ready mix concrete slump between the plant and jobsite.
But first, let's look at the difference between prescriptive specifications and performance specifications, as they pertain to concrete.
Prescriptive specifications include clauses for means and methods of construction and composition of the concrete mix, rather than defining performance requirements.
Conversely, performance specifications are a set of requirements for mechanical and functional properties of the concrete depending on the application. These requirements should be clear, achievable, measurable and enforceable.
A key consideration here is that performance specifications allow for flexibility. Flexibility on mixture composition is necessary to accommodate source variability of ingredient materials and seasonal aspects that impact ambient conditions during construction. The rigidity of a prescriptive specification cannot adapt to unpredictable fluctuations such as these.
Project owners designing and building in many diverse areas and complex urban environments would be better served to lean on the knowledge and expertise of the local contractors and ready mix producers via a performance specification for concrete. In this case, mix proportioning can be expedited if the producer already has concrete mixtures that are pre-qualified to meet the requirements. The performance criteria are predefined in the standard set forth by the owner; the producer would have completed prequalification testing and trial mixtures for each application specified.
If the owner specifies the desired performance and relies on the expertise of the concrete contractor and ready mix concrete producer to deliver an optimized mix, it can often be delivered at a lower in-place cost with higher quality to the project. Not to mention, this approach tends to reward innovation (by the ready mix producer and/or contractor) and quality construction at the practical level.
Enter the in-transit concrete management system
This innovative technology is a reliable tool for ready mix concrete producers and contractors to best leverage their expertise meeting performance-based concrete specifications.
Let's consider the responsibilities of both the ready mix concrete producer and concrete contractor and how an in-transit concrete management system aids in carrying out their requirements under a performance-based spec.
Held to a performance specification, the ready mix concrete producer must certify that the plant, equipment, materials, concrete mixture, production, and delivery comply with the standard, set by the owner. Additionally, the producer must put forth a quality control plan to ensure the contractor's and owner's performance requirements will be met.
An in-transit concrete management system greatly facilitates these responsibilities under a performance specification. Since slump is managed and recorded in transit, not only will the concrete contractor on the receiving end provide more consistent, quality placements, but the producer can record comprehensive data from each batch. Monitoring this data ensures that the whole load met the specification, throughout shipment from plant to jobsite. Moreover, to reinforce consistency between batches, quality control and batching personnel can adjust the water based on slump measurements of previous concrete deliveries throughout the day.
From the concrete contractor's perspective, batches arriving within specification limits and with consistent slumps do not need to be adjusted on site with last-minute water or admixture additions. The concrete can be placed immediately. The truck can then return promptly to the plant. Less time on site and shorter cycle times between plant and jobsite lead to faster construction with a much more consistent concrete product.
Perhaps the most important aspect of incorporating an in-transit concrete management system while meeting performance specifications for concrete is transparency. As more responsibility is placed on the ready mix concrete producers and contractors, the in-transit concrete management system acts as a monitoring, measuring and managing tool to regulate ready mix concrete slump, temperature and other important properties. An in-transit concrete management system also helps demonstrate (via recorded data) that, as delivered, the concrete and method of delivery meet the performance specified by the engineer or architect. At last, there's proof in the (wet) ready mix concrete.
†The definitions for "prescriptive specifications" and "performance-based specifications," as well as much of the theory between the two largely found inspiration from "
Performance-Based Specifications for Concrete
" by NRMCA Vice President of Engineering Colin Lobo, Ph.D., et al.
Tags
Airports
Arts & education
Bridges
Commercial buildings
Concrete
Energy facilities
In-Transit Concrete Management
Industrial facilities
Infrastructure
Mass transit
Museums
Ready Mix
Residential buildings
Retail buildings
Schools
Sports stadiums
VERIFI